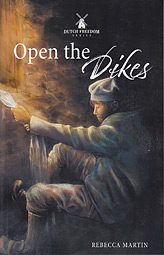 Open the Dikes (Book 2) - Dutch Freedom Series
Paper cover
172 pages
0.526 lbs
Item #14-DF030
From the Dutch Freedom Series.
"Memories," Gerrit said with a grimace. "I wish I could just throw my memories into the Scheldt River and watch them float out to the North Sea, never to be seen again."
Gerrit and Bettgen both had happy memories of growing up in Mennonite homes—and sad memories of losing their parents. But they had strayed far from their Mennonite heritage.
Yet the memories persisted, becoming all the more vivid when the Pruys children came into their lives. These children, too, learned what it was like to see their parents being captured by cruel bailiffs.
Open the Dikes is the story of a spiritual journey. It is also the story of a marriage—played out against the background of the Dutch revolt against Spain. When the dikes were breached, flowing water brought salvation to a city—and this becomes a parable for the spiritual journey we all must travel.
Table of Contents

Part One: Gerrit

Aboard the Hollander
The Sister Who Cared
Parable of the North Sea
The Basest of Men
Off to the Sea
On the Garden Bench
New Friendship

Part Two: Bettgen

Warning from Irema
Unbaptized
A Rite for Gerrit
Unexpected Freight
No Compromise
Don't Pressure Me
A Home for the Children
Tinderbox
Poor Lambs
Restless
Missing
How Alkmaar Was Saved
The Way Forward

Part Three: Gerrit Again

Tricks Up Their Sleeves
How Leiden Was Saved
The Parable of Leiden
Customers who bought this product also bought
Customers who viewed this product bought