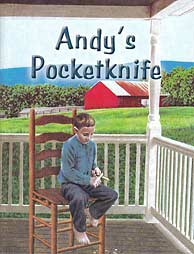 Andy's Pocketknife
Soft cover
64 pages
0.306 lbs
Item #1-2104
Andy's pocketknife was the best thing he owned. It had a sharp blade and a fine, shiny handle.
Andy carried his pocketknife everywhere. He used it in the barn and in the woods. He carried it to the pasture and to the orchard.
One day, Andy even carried it to church, where pocketknives do not belong. He had a big surprise waiting for him that Sunday—and an even bigger surprise fifty years later.
Customers who bought this product also bought
Customers who viewed this product bought