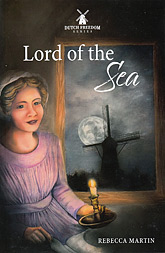 Lord of the Sea (Book 3) - Dutch Freedom Series
Paper cover
120 pages
0.38 lbs
Item #14-DF047
From the Dutch Freedom Series.
Grandpa Ens—or Opa, as they called him in Dutch—had in his past some things of which he was ashamed. Nothing embarrassed him more than to recall how he had become entangled with those religious fanatics of the 1530s.
Embarrassing or not, Opa knew he had to tell the story. The oncoming generation was encountering similar challenges. There were still leaders who wanted to claim people's hearts and loyalty. As long as he lived, Opa never stopped reminding the younger generation that there is only one Lord upon whom we can truly depend.
For the Dutch-speaking Mennonites of the 1570s, life was not easy. Not for Margi Ens and her family; not for Laurens van Groff and his family. Through rough waters and high waves, they continually drew strength from the Lord of the sea.
Table of Contents
Part One: The Days of King David
Sails over the Horizon
Standing Still
To the Bergklooster
The Queen's Doorman
At the Old Cloister
Transformation
Light in the Darkness
Part Two: The Days of the Pirates
New Governor
River-Crossers
Final Chapter
Final Chapter
March Through the Water
Part Three: The Wagonmaker
Time to Leave
Too Late
Change of Plans
Caught in the Crossfire
Sick at Heart
Covered with Waves