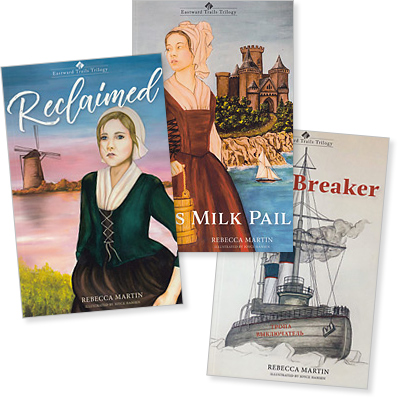 "Eastward Trails Trilogy Series" Set of 3
Who are the Russian Mennonites? Their roots go back to Holland, where, in the 1530s, God raised up a church to follow Him in simplicity and surrender. These Anabaptist "heretics" were persecuted severely. Many of them migrated eastward to Poland and Prussia. In Reclaimed, the author uses fictional characters to tell the story of flight from Holland to Poland.
However, the Russian Mennonites' roots are not only Dutch. In Eva's Milk Pail, you will find families of Anabaptist believers leaving Germany because of persecution. They seek safety in Austria, Moravia, and Czechoslovakia. Everywhere there is persecution. Eventually they flee to Poland and join the brethren there.
Many years pass. When the Polish-Prussian government becomes too repressive, the Mennonites move on to Russia. That happens in the 1700s. For about 140 years they prosper in Russia.
In Trail Breaker, you will meet families who are dealing with the chaos of civil war and communism in the Russia of 1918 to 1920.
Throughout the series, major happenings are based on historical fact.
Customers who bought this product also bought
Customers who viewed this product bought