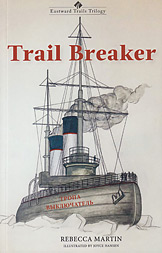 Trail Breaker (Book 3) - Eastward Trails Trilogy Series
Paper cover
143 pages
0.452 lbs
Item #14-ET836
From the Eastward Trails Trilogy Series.
"Maybe they'll hound us right off the continent into the ocean!" Sixteen-year-old Abram Wiems and his people are suffering terrible hardships under Lenin, Russia's new Communist ruler. The long arm of the secret police reaches right into Abram's family, tearing it apart.
"Shouldn't we be doing something to fight back?" the Mennonite young people ask. When German guns are made available, many of the young men do fight back. They take up arms in self-defense.
As Abram struggles with bitterness because of what his father has to endure, he begins to think that self-defense might be the answer. How else could the Mennonite way of life be preserved?
In Trail Breaker, Abram finally learns that Jesus has a better way—the way of peace. In fact, Jesus is the way. Beginning in the turbulent final months of the First World War, this story takes place more than 300 years after Eva's Milk Pail, the second book of the Eastward Trails Trilogy.
Table of Contents

Author's Introduction
People in This Story Who Actually Lived

Fleeing from the Bolshevik Army
Questions for Father
Explaining Communism
The Story of the 1874 Migration
Peasant Revolution
Letters from Forty Years Ago
Grasshoppers and Mosquitoes
Fire in the Night
Nighttime Messengers
Reaching the Port
Across the Ice
Chicken Coop
Peace Treaty
A Batch of Zwieback
Red and White
Machno
Path of Tribulation
More Refugees
Self-Defense
Way of Peace
Salt of the Earth?
Capture
Power Through Powerlessness
Gone
Terror Returns
Light for the Trail
Customers who bought this product also bought
Customers who viewed this product bought