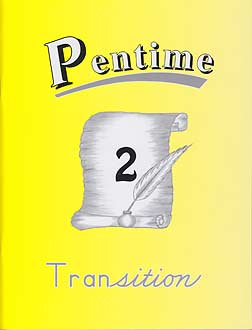 Grade 2 Pentime - Transition
Paper cover
96 pages
0.57 lbs
Item #35-22
This workbook is designed to give second grade manuscript practice at the beginning of the term, and then switching to beginning cursive and stroke practice.
Take time to properly explain each step of proper body, paper, and pencil position, since this will be the foundation of their future handwriting habits.
There are two practice sheet pages at the back of the book that may be removed and copied for students who need extra practice.
For added interest, this book features a bee motif encouraging virtues ("bee friendly", "bee meek", etc.), dot-to-dot illustrations and mazes, and animal caricatures offering handwriting encouragement and advice.
Contents

Correct Position for Holding Your Pencil
Pentime Manuscript
review practice
review practice
review practice
spr
spl
scr
str
thr
squ
ai
eer
oo
ear
ou
ow
oi
oy
ch
th
ck
sh
wh
ph
er
ur
or
ir
ar
gh
kn
wr
gn
Pentime Manuscript and Pentime Cursive
How to Hold Your Pencil
Lower Case Cursive
Upper Case Cursive
e l
a d
review practice
i r
h f
o c
review practice
u t
n y
v z
review practice
b k
g p
j s
review practice
m x
g w
O C
review practice
H R
J L
E A
review practice
D I
K W
G S
review practice
P B
M U
T F
review practice
N V
Q Y
X Z
review practice
lowercase stroke practice
uppercase stroke practice
practice
...
Manuscript and Cursive practice sheet
blank practice sheet
Customers who bought this product also bought
Customers who viewed this product bought