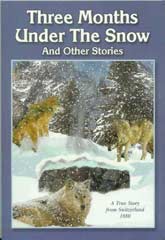 Three Months Under the Snow - and Other Stories
Paper cover
224 pages
0.26 lbs
Item #6-6585
Three months under the snow?! Is this some fictitious tale of a North Pole expedition? Or if it is true, how did anyone live to tell the story?
Translated from the 19th century French, Three Months Under the Snow is a school boy's own diary of his captivity with his grandfather in a Jural Mount chalet.
Your heart will throb with Louis as he tells of their narrow escape from fire, their fear of his father's wellbeing, rationing their lamplight, a terrible hurricane, wolves, Grandfather's last hours, the heart-rending burial, and the final rescue from the snow-covered prison.
Learn of God's providence as time and again He proves Himself sovereign and as Grandfather interprets it to his grandson.
Recommended reading for every teenager!
Contents

Three Months Under the Snow

Introduction
November 22, 18—
...
March 2

The Babes in the Basket

I. The Moonlight Visitor
II. The Martha Jane
III. The Water Lily
IV. The Red House with the Blue Shutters
V. Daph's Shopping
VI. Clouds
VII. A New Path
VIII. News
IX. A Ministering Spirit
X. Strange Proceedings
XI. Another Friend
XII. Home Scenes
XIII. Mary Ray
XIV. The Basket Overturned
XV. The End

A Brave Little Quakeress
Customers who bought this product also bought
Customers who viewed this product bought