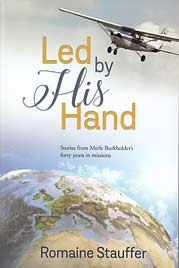 Led by His Hand
Paper cover
282 pages
1.104 lbs
Item #41-3179
Stories from Merle Burkholder's forty years in missions
The world is so big, Merle thought, but space is much, much bigger. God is in heaven, somewhere beyond all that space. He looks down on the world, and He can see me, a young boy here in the silo.
The thought was staggering. The great and mighty God who controlled the universe saw and cared about him. Merle could not refuse the call of such a great and loving God. I don't know what you want to do with my life or where you want me to go, he prayed, but I am willing to do whatever you ask.
Merle's call to missions came as a boy growing up on a small Pennsylvania farm. Later, his dream of establishing a business nearly silenced that call.
But God's hand continued to lead Merle and his wife Edith. They ministered to souls in snowy northwestern Ontario and under the tropical sun in Haiti. God also led Merle to help begin and administer savings groups among the needy around the world, enabling them to also open their hands and give.
These stories portray the real life of a missionary—a mixture of success, failure, and everyday living—told with a touch of humor. Be inspired, and consider God's call on your own life as you read.
Table of Contents

Introduction
1. "Send the Light"
2. Willing to Die?
3. God's Ways Are Better
4. Leviticus?
5. Power of God
6. John Lange
7. Forest Fire
8. Something Must Change
9. Lost in the Bush
10. "I will go with you"
11. A Fool for Christ
12. Charles McPherson
13. The Greatest Miracle
14. Called to Haiti
15. Adapting to Haiti
16. Fifty Gourdes
17. Madan Nelson
18. Traffic Violation
19. Robbed but Not Destroyed
20. La Colline Convention
21. Cultural Misunderstandings
22. Hunger Season
23. Confronting a Wife Beater
24. Stolen Funeral
25. Trip to the Citadel
26. No Regrets
27. Dryden Rotary Club
28. "Do you know who I am?"
29. Allowed to Live
30. Available for Anything
31. Hurricane Georges
32. The Stone-Dead Battery
33. The Only Hope
34. Part of the Price
35. Buddhist Thailand
36. Stuck in Léogâne
37. Joshua Memorial Clinic in La Source
38. No White Dollars
39. Outreach in Sioux Lookout
40. Praying for Bhutan
41. Go with the Flow in India
42. Delta in Myanmar
43. Open Hands in Kenya
44. Sea of Protestors in Nepal
45. Worth Living For
Afterword
Pronunciation Key
About the Author
Customers who bought this product also bought
Customers who viewed this product bought