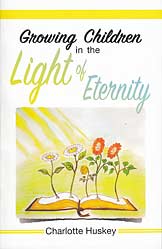 Growing Children in the Light of Eternity
Paper cover
137 pages
0.422 lbs
Item #21-489
Growing Children in the Light of Eternity is full of outstanding philosophies for Christian parenting. It includes diverse concepts of parenting and recommendations for using the best one. One section is devoted to getting a child off to a good start in the first few years. It contains excellent instructions for training children to control their emotions while very young, which will help any child to enjoy a happier, more successful life. There are chapters on teaching the grade school age child to mature, listen to his conscience, and take responsibility for his actions and duties. Other chapters are directed to coaching teenagers into assuming adult accountability. In this section parents will find hope, courage, and instructions for heart bonding in those years that some parents find turbulent.
This book will point parents to God's thoughts about parenting. It should help them to lead their children away from low, earthly things into the high fields of God's eternal values. Hopefully it will encourage parents to nurture their children's spirits as they nourish their bodies, because the child's spirit will live forever.
From time to time, the author has written memos to parents. This book is a collection of those bits of wisdom God has given. It is written in hopes that it will inspire weary parents, and that it will answer a few of the many questions young mothers have. It is given with a prayer that it will bless families everywhere, and that godly parents will be able to more effectively influence their children to follow the Path to Heaven.
Contents

1. An Eternal Being in Our Hands
2. The Family Structure
3. Creating a Strong Family
4. Balance in a Royal Family
5. Ungodly Counsel
6. Provoke Not Your Children
7. Time Management
8. Every Child is a Blessing
9. Protecting Your Child's Mind
10. Those Formative Years
11. Creating a Clean Heart
12. Obedience
13. Gaining Respect
14. That Messy Room
15. Those Watchful Eyes
16. Training the Conscience
17. The Language of Love
18. The Dinner Table
19. Training Children to be Witnesses
20. Give Us Wisdom
21. Building Self-Worth
22. Praise God, I Can Work!
23. God's Creative Powers
24. Becoming Useful for God
25. The Importance of Our Promises
26. God Hears Our Cry
27. Yoked Together with Christ
28. Will Your Children Survive the Blizzard
29. Gaining Respect from Teenagers
30. Too Much Food and Time: a Sin of Sodom
31. Not Helping the Poor
32. Being a Lighthouse
33. God's Promises

Acknowledgements
About the Author
Also by Charlotte Huskey
Customers who bought this product also bought
Customers who viewed this product bought