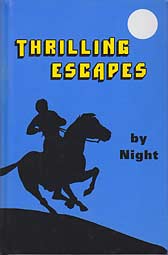 Thrilling Escapes by Night
Hard cover
336 pages
1.24 lbs
Item #1-2430
"It is safe, Margaret. No one can come in," said Herman, wondering at her fearfulness and agitation.
They sat before the fire, but Margaret would only sit where she could see the door. When she told the story of the man on the stairs, the faces of her listeners blanched, for penalties of heresy were many and fearful.
"They talk in that manner of that godly man who is under our roof!" exclaimed the elder woman in tremulous tones. "Herman, do you realize Master Tyndale's danger?"
"I do, Mother, but we must contrive to save him," Herman answered, wiping his face, which had gone damp with the horror of these possibilities. "That man, Cochlaeus, must not find him!"
Your own faith will be encouraged and challenged as you follow William Tyndale and his helpers through dark underground passages, robbers' castles, dense wood, and open countrysides, with bullets singing through the air as they flee their pursuers. You will be encouraged by their firm faith in God and His wonderful protection.
This book portrays the great risks Tyndale encountered in his untiring efforts to see the Bible printed in the language of the common people—English. It can truly be said of him that he loved not his life "unto the death."
Contents

1. The Man in the Meadow
2. The Man on the Stairs
3. The Picture in the Fire
4. The Coming of the Guard
5. The Man in the Archway
6. The Search
7. The Passage
8. The Printer's Workshop
9. The Man by the River
10. Roye and the Inquisitors
11. Alone in the Cavern
12. The Night Ride
13. The Prisoner
14. The Forest Ranger
15. A Daring Decision
16. Within the Castle
17. The Man in the Dungeon
18. In the Cell
19. Spoiling the Egyptians
20. The Flight From the Holy House
21. The Mill in the Forest
22. Herman's Return
23. In the Lion's Mouth
24. The Great Alternative
25. The Coming of the Forester
26. The Purchase of the Vault
27. The House on the Wall
28. The Night Ride in the Forest
29. The Night Rider's Call
30. The Eleventh Hour
After the Story
Customers who bought this product also bought
Customers who viewed this product bought