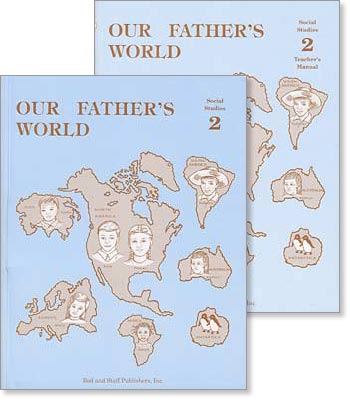 Grade 2 Social Studies "Our Father's World" Set
Here is a simple course that introduces and explains basic geographical terms—continent, ocean, lake, city, state, province, and country. Basic surface features are discussed—mountains, hills, deserts, valleys and plains. The purpose and structure of globes and maps are taught. Twelve of the lessons have stories about children around the world. Each story is cast in the setting of a child's surroundings and activities on a March day.
At the back of the pupil's workbook is a section called "New Word Exercises," where the meaning and the use of the new words used in a given lesson are taught by fill-in-the-blank exercises.
This course was published in 1982, and of course many political changes have occurred since then. However, along with geographical instruction, the focus is on introducing the child to several different cultures, with little emphasis on historical context. One of the stories in this book (lesson 20) takes place in the former Czechoslovakia. The publishers have added the following footnote in the teacher's manual: "Now that communism no longer rules Russia and several European countries, some aspects of this lesson are not accurate. Make clear to the pupils that communist disdain for Christians continues, even though political changes have occurred. Believers in communist-ruled countries must live as this lesson describes. In 1993, Czechoslovakia separated peacefully into two new nations, the Czech Republic and Slovakia."
Read more about Rod and Staff's approach to social studies/history...
Contents

1. Different Kinds of Land

1. Hill Country
2. Crossing the Prairies
3. Sighting the Mountains
4. Viewing the Valley
5. Hot, Dry Deserts
6. Review

2. Introducing Maps

7. North America and South America
8. Five More Continents
9. Directions on a Map
10. Oceans of the World
11. Coloring Maps
12. Review

3. A Day in the Continents

13. John of North America
14. Roberto of South America—Part 1
15. Roberto of South America—Part 2
16. Seebo of Asia—Part 1
17. Seebo of Asia—Part 2
18. Review

4. A Day in the Continents

19. Antarctica
20. Maria of Europe
21. Kathryn of Australia
22. Adoyo of Africa—Part 1
23. Adoyo of Africa—Part 2
24. Review

5. Reading Maps

25. Studying the Globe
26. The Four Hemispheres
27. Learning About Rivers and Lakes
28. Learning About Cities
29. Review
30. Test

New Word Exercises
keywords: our fathers world
Customers who bought this product also bought
Customers who viewed this product bought