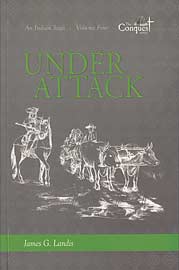 Under Attack (Volume 4) - "The Conquest Series"
Paper cover
396 pages
1.59 lbs
Item #41-3151
American History Through Indian Eyes
Volume 4 of The Conquest Series; sequel to Tomahawks to Peace.
Under Attack lets you in on the desperation and frustration of Moravian missionaries and converted Indians as the duplicity and greed of the Whites force them to leave their prosperous villages and start over again... and again... and again.
As the story unfolds, you will thrill when adult heathen Indians like Chief Wassamapah, Renatus, and Papunhank cast themselves upon the Savior's mercy and seek healing for their souls... and a place of quiet refuge for their bodies.
In Under Attack you will witness the suffering and injustices thrust upon godly people as they are driven like cattle from one place to another. You will read true accounts of slander, race baiting, theft, murder, deportation, captivity, forced marches, and exile. In one situation after another the Christian Indians find themselves despised and unwanted by so many, yet possessing a power that draws men from the darkest corners of heathendom to join them in daily worship of the Savior.
Listen in as the aging Glikkikan recounts to the thirty-year-old Moravian scribe, John Heckewelder, his version of the troubling times. Feel the tension as Glikkikan insists that he knows the underlying cause of what repeatedly pushed the Christian Indians out of their homes and villages. Young Heckewelder disagrees.
Join these two in a quest for truth in this historically accurate story and catch a glimpse of the vision embodied in a yet undiscovered gold medallion.
Contents

List of Illustrations
List of Maps
Credits
Foreword
Timeline

Volume Four: Under Attack

1. A New Beginning (1772-1773)
2. Under Attack at Shekomeko (1742-1746)
3. Under Attack in the Forks of the Delaware (1747-1755)
4. Under Attack at Wyoming (1756-1763)
5. Under Attack in Philadelphia (1763-1765)
6. Under Attack at Wyalusing (1765-1772)

Appendix

A. Cast of Main Characters
B. Place Names
C. How Much of This Story Is True?
D. The Life Work of Johannes Papunhank
E. The 1763 Murders in the Wyoming Valley
F. Christian Village Statutes and Rules
Customers who bought this product also bought
Customers who viewed this product bought