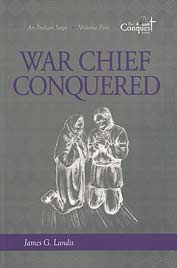 War Chief Conquered (Volume 5) - "The Conquest Series"
Paper cover
324 pages
1.16 lbs
Item #41-3168
American History Through Indian Eyes
Volume 5 of The Conquest Series; sequel to Under Attack.
In War Chief Conquered, the young Moravian missionary, John Heckewelder, prods Glikkikan into telling his life story. But the famous Indian chief is wary of the white men's corrupted treaties and requires Heckewelder to write his story exactly as he tells it.
Historically accurate and filled with emotion, War Chief Conquered brings the reader close to the heart of a powerful war chief, showing his struggle as he attempts to lead the Delaware Indians to a secure homeland.
Would overcoming their English and Iroquois enemies in battle bring security to the Delaware? Glikkikan learns that war and murder only increase bitterness and hatred, and he yearns for something better.
When Glikkikan confronts the Christian Indians who refused to join in the warfare, he is confident that he can overcome them with his carefully prepared arguments. Instead, the Great Glikkikan finds himself speechless. Then he declares to his fellow warriors, "These Christians have the truth! Listen to them!"
Precisely when Glikkikan is convinced he has found the path to truth and happiness, a difficult choice confronts him. Must he love his enemies to serve the Savior?
Witness Glikkikan's struggle to overcome the bitterness of his warring past by allowing the Savior to conquer his heart.
Contents

List of Illustrations
List of Maps
Credits
Foreword
Timeline

Volume Five: War Chief Conquered

1. God Gave Us the Land (1775)
2. The Promise (1775)
3. The Savages Clash (1747-1764)
4. The Plot (1767-1768)
5. The Champion (1768)
6. Love Your Enemies (1769)
7. Conquered (1770)
8. New Life (1771)
9. For the Truth (1775)

Appendix

A. Cast of Main Characters
B. Place Names
C. For the Record
D. The Temper of the Times
E. Mission Statutes and Rules

Bibliography
About the Author
Customers who bought this product also bought
Customers who viewed this product bought