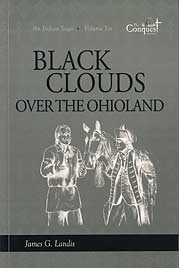 Black Clouds Over the Ohioland (Volume 6) - "The Conquest Series"
Paper cover
250 pages
1.044 lbs
Item #41-3177
American History Through Indian Eyes
Volume 6 of The Conquest Series; sequel to War Chief Conquered.
Black clouds of war again rise over the Christian Indian villages of the Ohioland. The Delaware capital of Coshocton is shaken by the great struggle of the nearby Moravian mission at Meadows of Light to keep the Delaware nation neutral.
Black Clouds reveals how promises, treaties, and justice mean nothing when war erases any sense of right and wrong. At first, both the Americans and the British promise the Indians safety if they stay out of the argument between a father (Britain) and his rebellious son (America). Instead, both sides coerce the Indians into the war.
In Black Clouds, you will see the Moravian missionaries, David Zeisberger and John Heckewelder, toiling to keep the Delaware nation neutral. In addition, you will see how the towering presence of Isaac Glikkikan brought faith and calm at a time when the storm seemed about to unleash its fury.
Furthermore, Isaac Glikkikan lays bare the root cause of the Revolutionary War. Was it taxation without representation? Oppressive government? Attacks by savage Indians? A desire for independence? Discover the real cause of the war in this historically accurate and provocative tale.
Contents

List of Illustrations and Maps
Credits
Foreword
Timeline

Volume Six: Black Clouds over the Ohioland

1. A Great Noise (1776)
2. Neutral You Cannot Be (1777)
3. Caught in the Whirlwind (1778)

Appendix

A. Cast of Main Characters
B. Place Names
C. The Underlying Cause of the Revolutionary War
D. How Much Is True?
E. Mission Statutes and Rules

Bibliography
About the Author
Customers who bought this product also bought
Customers who viewed this product bought