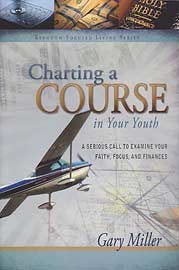 Charting a Course in Your Youth
Paper cover
211 pages
0.79 lbs
Item #41-3039
Kingdom-Focused Living Series
A Serious Call to Examine Your Faith, Focus, and Finances
Far more than a book on finances, Charting a Course will help youth establish a life plan that channels their time, talents, and resources into the Kingdom of God.
Gary Miller addresses practical issues such as credit, advertising pressure, and our infatuation with electronic gadgets, offering down-to-earth, easy-to-follow guidance. And he does so within the framework of Jesus' call to seek first the Kingdom of God. This is not simply a guide to manage money frugally or how-to course in making money, but a continual call to look for ways to live as Jesus would, to carry out His intentions in our day.
Miller's stories and illustrations capture the reader's attention. Young people will find it engaging reading, and parents, church leaders, and teachers will be grateful for the opportunities this book offers to discuss financial issues with their youth. —John Coblentz
What Are Youth Saying?
"I read this book at a time when I needed clarity for my financial decisions. Gary helped me 'get my head on straight.' I need a constant reminder to spend for the Kingdom." —Christopher, 22
"If you actually believe that life is full of real choices and that someday you will be held accountable for the choices you make... then this is a must-read!" —Caleb, 25
Table of Contents

Introduction
1. Flying Free
2. The Importance of Vision
3. "Choose You This Day"
4. Biblical Stewardship—The Missing Ingredient?
5. Do I View Money and Possessions as Jesus Does?
6. Developing a Biblical Value System
7. A Steward? What's That?
8. Developing a Kingdom-Focused Vision
9. Whose Kingdom Are You Building?
10. Putting Your Vision Into Action
11. Diligence in the Workplace
12. Developing Personal Discipline
13. Who Needs a Budget?
14. Choosing a Career
15. Money and Marriage
16. Singe Life—Serving Without Distraction
17. Investing in the Kingdom
18. Crosswinds
19. "They That Will Be Rich..."
20. Considering Before Committing
21. Selecting a Kingdom Chariot
22. Consumer Credit and the Kingdom
23. Saving and Serving—A Window of Opportunity
24. Materialism—Satan's Sneaky Substitute
Customers who bought this product also bought
Customers who viewed this product bought