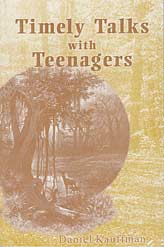 Timely Talks with Teenagers
Paper cover
64 pages
0.18 lbs
Item #20-6587
This book is intended for young people just developing into manhood and womanhood.
A few years ago you were mere children. In a few years more (if God permits you to live that long) you will be full-grown men and women, bearing the burdens of life.
As you are growing in body, in mind, and in knowledge, are you growing in morals? May you not only be wiser and more capable, but also better and more useful.
When, in the final reckoning, you will be called upon to give account of what you did in this life, may it be that you have chosen wisely: THE ONE THING NEEDFUL.
Table of Contents

Preface
Growing
Have an Aim in Life
Make Use of Your Spare Moments
Jewels
Pleasure
Companions
Influence—Of Others Over You
Influence—Of Yourself Over Others
Little Things
A Few Dont's
Things Worth Remembering
The One Thing Needful
Customers who bought this product also bought
Customers who viewed this product bought