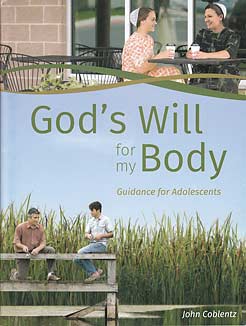 God's Will for My Body
Paper cover
56 pages
0.36 lbs
Item #4-241023
God has given parents the weighty responsibility of helping their children become adults—safely. This workbook is a guide parents can use to help their children understand, accept, and appreciate the physical and emotional changes that come with growing up.
This godly teaching provides clear, Biblical help and is a much-needed balance to the messages and images the world tries to force on our young people. Lessons cover physical changes, feelings, temptations to impurity, God's design for men and women, and care of the body. (No images of reproductive organs are included.)
Because of new pressures in today's world, it is now updated with two new lessons on gender confusion and dangers of technology.
Introduction to the Use of This Book

Growing up has always had its bumps and scrapes and secret fears. God has given parents the weighty responsibility of helping their children become adults—safely. Sometimes that responsibility seems overwhelming. Other times it seems impossible. Besides the "normal" difficulties children face growing up, today there are a host of degrading influences hacking at the interests and ideals of our young people.

This workbook is not intended to replace the responsibility of parents, but to provide help. The material is such that it is not intended for indiscriminate reading by children or young people. Nor is it designed to be turned over to a young person at the opportune age as an assignment. The best way to use this workbook is for parent and child to work through it together, the parent reviewing the lesson first, and then guiding the child.

No age can be set as the ideal age for every young person to learn the material in this workbook. Changes occur at different ages for different young people. Situations and need can vary greatly. It is wise, however, for young people to be aware of the essentials of puberty before they actually experience physical changes. And it is ideal for them to learn these things from their parents first, rather than from other sources.

...
Contents

1. God Made My Body
2. God Made Male and Female Bodies
3. When Boys Become Men
4. When Girls Become Women
5. Why God Made Male and Female
6. How I Feel About My Body
7. Keeping My Body Pure
8. Caring for My Body
9. Contemporary Issues: Gender Confusion
10. Contemporary Issues: Technology
Customers who bought this product also bought
Customers who viewed this product bought