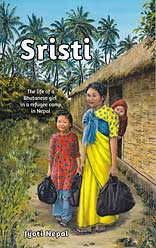 Sristi
Paper cover
157 pages
0.506 lbs
Item #4-265470
The life of a Bhutanese girl in a refugee camp in Nepal
Ruth pulled Sristi aside and handed her something wrapped in plastic. "Sristi, I will probably never meet you again. But I want to give you a gift. Even if you don't read it now, keep it with you. Later when you grow up, you can read it."
Sristi's home was a bamboo hut in a refugee camp in Nepal. She went to school in the camp, played games with her friends, and traipsed around after her lively little brother. Every morning Sristi's mother offered incense to a Hindu goddess and rang a special worship bell.
One day Sristi opened the Bible Ruth had given her. There, in the very first sentence, she found a special surprise. Sristi and her mother began learning about the God of the Bible. Was this God truly better than their Hindu gods and goddesses?
Contents

Map
Author's Note
Preface

1. Family Troubles
2. A Walk Through Camp
3. Fire
4. Baba Decides to Go
5. At the Water Faucet
6. Too Much Water
7. Selling Squash
8. Festival Season
9. The Bandh
10. Untouchables
11. Up the Mountain to Darjeeling
12. Arrival in Darjeeling
13. Lotus Lodge
14. Tiger Hill
15. A New Friend
16. Hotel Chores
17. Ponies of Chowrasta
18. Lost Gift
19. Himal's Adventure
20. Words of Wisdom
21. Goodbye, Darjeeling
22. Camp Again
23. School
24. Another Friend
25. Burglary and Science
26. Saturday Plans
27. News From the City
28. The Bible
29. A New Song
30. Ama Seeks
31. Alpha and America
32. Abandoned
33. Two Sides
34. New Sristi
35. Science and Basil Plants
36. Enemy, Neigbor
37. Baptism
Customers who bought this product also bought
Customers who viewed this product bought