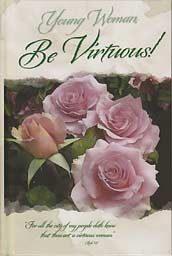 Young Woman, Be Virtuous!
Hard cover
384 pages
1.22 lbs
Item #1-2196
You are in the bloom of life—a rose that is opening. And because so many things may seem to be going your way, you can easily be taken up with just the present. However, you must look beyond the present and remember that your present actions will affect your future....

Setting goals is quite different from actually reaching them. It's easy to set lofty goals... but it's another thing to set your sights on your goals and journey toward them with patient persistence....

Life does not need to be easy for it to be worthwhile. In fact, many worthwhile things come at a high cost...

Determine that you will be as a budding and blooming rose. As excessive rain spoils a rose, sin will spoil you if you allow it to reign in your life....
Young woman, no doubt you have heard it said, "One size fits all." This book is like that. Although not everything it says may fit you exactly, it may offer you a thought that leads you to another thought that does fit. This book offers helpful suggestions on matters like having a meaningful relationship with the Lord, planning for the future, communicating with parents, making wise choices, relating to young men, and being a friend to all. God bless you as you read, ponder, and grow.
Contents

Foreword
Introduction
Acknowledgements

1. Life Is a Gift
2. Time Will Tell
3. Set Your Goals
4. You Have an Enemy
5. Every Young Woman Needs a Saviour
6. Every Young Woman's Part in Salvation
7. Getting Acquainted With God
8. Developing an Honorable Character
9. Developing a Respectful Character
10. Developing a Gracious Character
11. You and Your Emotions
12. Communication
13. Home
14. Your Church
15. Purity
16. What You Read
17. Your Personal Devotions
18. Music That Helps You
19. Recreation
20. Forward by Mistakes and Failures
21. Being Thrifty
22. Being Industrious
23. Developing Your Personality
24. Be Becoming!
25. Peer Pressure
26. Friendships
27. Courting or Not Courting
28. Christian Service
29. Sharing the Gospel
30. Young Woman, Be Virtuous!
Customers who bought this product also bought
Customers who viewed this product bought