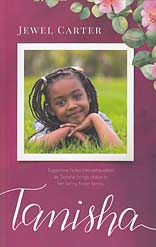 Tanisha
Paper cover
284 pages
0.728 lbs
Item #4-265460
Eagerness fades into exhaustion as Tanisha brings chaos to her caring foster family.
Thirteen-year-old Twila Hammond looked forward to having another foster child join their family. She knew what they were getting into. After all, she had two adopted siblings, and their family had fostered children before.
The social worker warned that this foster child would bring extra challenges due to the trauma and neglect she had experienced. But when little Tanisha arrived, beautiful, charming, and eager to please, Twila's fears vanished. Tanisha fit right in and seemed to adjust well.
Then things started to go wrong. No one could explain Tanisha's blank, uncooperative moods, her unyielding antagonism toward Mother, and her seeming delight in causing trouble and hurting others.
Exhausted and sometimes misunderstood, Twila and her family set out on a journey to find help and hope. How will God bring healing not only to the small wounded newcomer, but also to Twila and the rest of the family?
Table of Contents

Note From the Author
1. An Orphanage at Home
2. Sweeper's Disease
3. Tanisha
4. Thankful for Snow?
5. The End of the Honeymoon
6. A Deep Black Hole
7. A Child Who Has Never Been Loved
8. A Glimmer of Hope
9. I'm Just a Bad Girl
10. God's Hands and Feet
11. The Forgivingest People in the World
12. Dollhouse Trauma
13. Birthday Misunderstanding
14. Too Much Excitement
15. Hugs for Mother
16. My Heart Says I Love You
Acknowledgements
Reactive Attachment Disorder
Customers who bought this product also bought
Customers who viewed this product bought