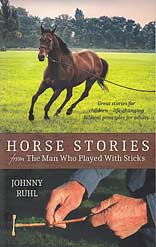 Horse Stories from the Man Who Played With Sticks
Paper cover
120 pages
0.36 lbs
Item #4-265200
Great stories for children—life-changing Biblical principles for adults
Every Sunday morning the children at the church in Hickory Stick were treated to a horse story from the man who played with sticks—horse trainer Vernon Boggs. But the stories weren't only for the children. The very first Sunday, Vernon explained, "I'm going to tell you a story about a horse named Raven. At the same time I'll be teaching a lesson to your parents, if they listen carefully."
So Vernon Boggs told the children how he almost gave up on Raven, an angry, fearful horse who seemed impossible to train. On another Sunday he told them about Cinnamon, a horse who refused to go where his rider wanted. The children learned how an older, well-trained horse taught a younger, restless horse how to behave, and how a mule could win a race without being whipped to run faster.
The children and parents in the congregation at Hickory Stick learned about more than training horses. Through the horse trainer's stories, they learned about obedience, God's ways, and being useful in God's kingdom.
Follow the instructions at the end of the book to make a gee haw whimmydiddle stick, one of Vernon Boggs' favorite teaching tools.
Table of Contents

1. Vernon Boggs
2. Raven
3. Clifford
4. Woody
5. Cinnamon
6. Horse Trading
7. Liberty Horses
8. A Better Way

Making Your Own Gee Haw Whimmydiddle
Customers who bought this product also bought
Customers who viewed this product bought