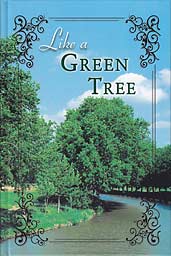 Like a Green Tree
Hard cover
152 pages
0.66 lbs
Item #1-2588
Leroy Martin smiled as he drank in the freshness of the May afternoon. Blue skies, a gentle nip in the air, and the tender green of bursting buds filled the countryside. From his perch on the tractor seat, he could see his father's fields stretching before him—three hundred acres of a well-managed farm. The barns and pastures held a herd of cattle that was known to be one of the finest in the area.
Leroy enjoyed his work on the home farm, but life held more than just work. He also enjoyed his friends and their frequent ball games. Eva, a fine young lady, also held a place in his thoughts; and altogether, it seemed that life was working out in a satisfactory and comfortable way.
But his complacency was seriously jolted when his friend Mark—the most valued athlete on the team—no longer had time for ball games. "God has been showing me that I've really been living for myself," Mark shared. "I love to succeed. I love to have fun. But where does God come in? Am I dying daily for Christ, as Paul did?"
"But do we really have to go that far, to be an oddball and have such a radically different life?" Leroy asked. "A lot of people are Christians without going off the deep end."
Leroy tried to forget his friend's concern, but disappointment and tragedy suddenly brought him face to face with the most serious question of his life and one that he could not ignore: What really does God require of a Christian?
Customers who bought this product also bought
Customers who viewed this product bought