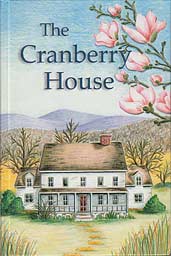 The Cranberry House
Hard cover
249 pages
0.91 lbs
Item #1-2169
The Cranberry House is an old, rambly, two-story house. Its clapboards had been white once upon a time, but now the paint is so badly cracked and peeled that the house looks gray. A sagging porch runs the length of the house, and the shallow sandstone steps that lead to the porch have time-worn hollows in the middle. The house sits spang in the middle of a squashy patch of spring-green grass. Some of the windows are broken, and they look like blank eyes staring at the visitors in surprise.
For fifteen-year-old Marguerite Stanton, the move to Clear Lake is hard enough. Leaving the beautiful home farm where she had lived all her life is a difficult thing. Even worse, none of her close friends are among the families chosen to move to the new church. But the Cranberry House is certainly the last straw. Surely Father and Mother will not seriously consider buying such an old, out-at-the-elbows house.
With all the impetuousness of a mid-teen, Marguerite struggles to accept the momentous changes that life brings to her. The key to joy is in her hand, but can she unlock the door?
Customers who bought this product also bought
Customers who viewed this product bought