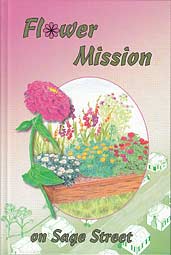 Flower Mission on Sage Street
Hard cover
206 pages
0.77 lbs
Item #1-2518
Twelve-year-old Andrea looked forward to spending four summer months at Grandpa and Grandma's delightful little cottage on Sage Street. With her sister Amy and her brother Alex to keep her company, the days would fly swiftly until Father and Mother returned from their missionary trip to India.
But the cottage on Sage Street is small, and Grandpa and Grandma do not have a garden, because plants do not grow well in the Sage Street area. The rest of the neighbors living on Sage Street are older people—like Grandpa and Grandma. What will three lively children do all summer?
That first evening, Andrea's thoughts churned as she prepared for bed. If only she had a place to plant flowers, she would be content. But it was out of the question , for the soil was so poor that most plants refused to grow. It was too bad, for surely the older people who lived in the other cottages would also enjoy a hobby like growing flowers.
Then—the very next day—an empty sandbox frame sparks Andrea's great idea. Not only would she grow flowers on Sage Street, but she could also be a missionary while she was at it.
Contents

1. Cottage on Sage Street
2. Missionaries on Sage Street
3. The Secret Mission Begun
4. The Missionaries Meet Their First Neighbors
5. To Laugh or to Learn
6. "We're in Business"
7. Still Learning
8. All to God's Glory
9. Only a Dish, After All
10. Just in Time
11. Butterfly Cheer
12. Laughter Cure
13. "Did You Hear...?"
14. Now Is Your Chance
15. Fuzzy-tail Knows a Secret
16. What Alex Learned
17. When Dan Got Sick
18. Dan Will Be Dan
19. Sage, Sages, and Sagas
20. Happy Times
21. Of Babies and Cookies
22. Goodby, Sage Street!
Customers who bought this product also bought
Customers who viewed this product bought