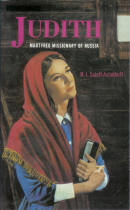 Judith: Martyred Missionary of Russia
Paper cover
135 pages
0.25 lbs
Item #6-5002
The Saga of a Martyred Russian Jew
Judith was an earnest girl who embraced a faith that cost here everything—her family, fiance, home and friends. Written from personal knowledge of Judith and her story, this is the saga of a dedicated young woman caught by her faith and social position—forced to die in the blood-bath of the Russian Bolshevik Revolution.
Author's Note

The book Judith is a true narrative of the life of a girl, the daughter of a prominent Jewish family in Russia. After accepting the Lord Jesus Christ as her Savior, Judith was compelled to leave her father's house, the young man to whom she was engaged and whom she loved dearly, her friends and her people. Her life, that henceforth was fully yielded and consecrated to the service of her Lord, found an end under the deadly blows of the swords of a group of soldiers.

It was the author's privilege to observe Judith's life and service for Christ and to witness her untimely end. The story of her life from childhood to her conversion is based upon the author's recollection of many personal discourses with Judith.
Table of Contents

I. Happy Days of Childhood
II. Refugees
III. Seek and Ye Shall Find
IV. Persecuted for Christ's Sake
V. Dedicated to the Lord
VI. The Youthful Martyr
Customers who bought this product also bought
Customers who viewed this product bought