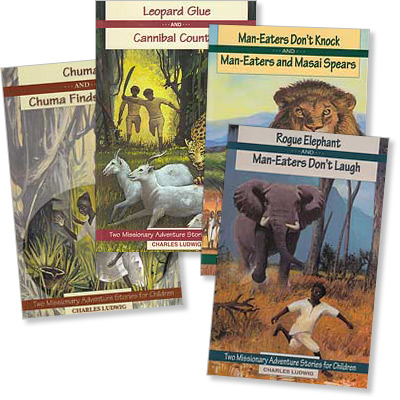 "Missionary Adventure Stories Series" Set of 4
Charles Ludwig knows just what boys and girls like to read in adventures. These stories are written right from the heart of Africa. As a boy Mr. Ludwig spent ten years in Kenya Colony, attended school there, and slept under the stars with only a fire to keep the hyenas away as they greedily circled the camp. One night lions came and stole the dried meat suspended on a wire near the camp. Mr. Ludwig has written many books, most of them about Africa.
In this series of fictional drama based in that cultural setting, you'll read about the adventures of Chuma, daughter of the most famous witch doctor in Bunyore, and also about Ndama and Ochella, two brothers who join Missionary Green and have many narrow escapes as they help to share the gospel of Jesus Christ.
Customers who bought this product also bought
Customers who viewed this product bought