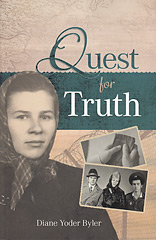 Quest for Truth
Paper cover
272 pages
0.776 lbs
Item #41-3234
One night they came. In a raven-black car. Crying in anguish, young Luba clung tightly to her mother as the car carrying her father disappeared down the street. Would she ever see him again? Would they soon come for Mother?
Growing up in Ukraine at the height of the Soviet Union's power brought many hardships. From surviving a deadly man-made famine to toiling in a labor camp, Luba faced one challenge after another. But perhaps most unsettling of all were the agonizing questions: Are the communists right? Is there really no God? And if He does exist, where is He?
As Luba and her son Sergie and his wife seek answers to these questions, they face discouragement and despair. Sergei is sure that if he could escape the tyranny of communism, he would be happy. But when that doesn't help, he is desperate. What could be wrong?
Slowly God led them to discover the truth: God is real—and He brings joy and fulfillment to those who serve Him. It was the answer they were looking for.
Table of Contents

Part 1: Days of Darkness

1. The Man-Made Famine
2. The Raven-Black Car
3. In Despair
4. Taken
5. "Let Me Go!"

Part 2: More Hard Times

6. Girlhood Days
7. The Labor Camp
8. Vladimir
9. Nadia's Visit
10. A Downward Spiral
11. "Is There a God?"
12. Emptiness

Part 3: From Darkness to Light

13. Sergei the Soldier
14. An Oppressive Land
15. Arthur
16. Becoming Jews
17. Desert Storm
18. "What's Wrong?"
19. A Glimmer of Hope
20. The Answer

Part 4: Onward in Truth

21. No Other Gods
22. The Mercedes
23. A Troubled Conscience
24. Pleasure—or Eternal Value?
25. Styoppa
26. The Ordination
27. The Mennonites
28. A New Church
29. Olek
30. Three Souls—One Destination
31. Broad Is the Way
32. "We Will Have to Part Ways"
33. Moving
34. Angela
35. Evangelism
36. The Kosenko Family
37. Luba's Memories
38. "Goodbye"

About the Author
About Christian Aid Ministries
Customers who bought this product also bought
Customers who viewed this product bought