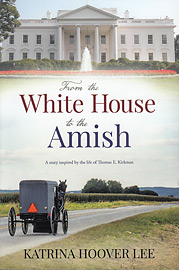 From the White House to the Amish
Paper cover
336 pages
1.21 lbs
Item #41-3212
A story inspired by the life of Thomas E. Kirkman
---
Will God keep His end of the deal?
Soon, Tom thought as he hurried to the hospital, I'll know if there is a God. And if He cares.
When they graduated in 1952, Thomas Kirkman and his high school classmates made daring predictions about their future, including a trip to the moon. Though Tom never made it to the moon, his journey through life took him to places just as unique.
But not even the prestige of working in the White House and the CIA could take away Tom's disillusionment and despair when he lost the most important person in his life. Convinced that God does not care, and may not even exist, Tom buried himself in his work and turned his back on God.
Then, through an unexpected voice and an unpretentious Amish man, Tom Kirkman's life was forever changed.
This work of biographical fiction echoes the true story of Thomas E. Kirkman—White House artist, CIA spy, inventor, and Amish man.
Table of Contents

Part One

1. The Chicken House
2. The Perfect Life
3. Prayers and More Prayers
4. The Sickness with No Cure
5. Bob, Bill, and Opal
6. Interrupted Broadcasts
7. Deaths and Victories
8. The Test
9. The Graduate with a Car

Part Two

10. Making a Mark on the World
11. The White House
12. The Calligraphy Office
13. A Visit Home
14. The Boss Returns
15. On Call
16. Dinner with the Boss
17. An Announcement
18. An Exciting Summer
19. Rest and Relaxation
20. Showing Off a New Son

Part Three

21. The Phone Call
22. The Drive
23. The Hospital
24. Edges of Grief
25. Modern Times
26. A Certificate from the Past
27. A Phone Call from Washington
28. The CIA
29. Moscow at Night
30. The Darkest Place in the World
31. The End
32. Faces from the Past
33. The Voice in the Car

Part Four

34. The Paoli Jail
35. Simon D. Gingerich
36. New Worlds
37. Joining the Amish Church
38. The Amish Man Designs an Engine
39. Ed Cole
40. Loss and Gain
41. Conversations with Brad
42. Reading, Writing, and Hallucinating
43. Last Days

Epilogue: The Last Word
Author's Notes
Endnotes
Bibliography
About the Author
Customers who bought this product also bought
Customers who viewed this product bought