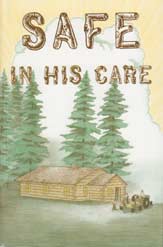 Safe in His Care
Soft cover
335 pages
0.84 lbs
Item #1-2373
The setting of this interesting story is in Canada's far North. The ruggedness of the country, the long, severe winters with their blizzards and a few brief hours of daylight, the lack of cash in Father's pocket, and various other circumstances contribute to the emergencies, the adventures, the trials of faith, and the excitement of this book.
Living in a log house, without electricity, without a telephone, and without a vehicle, this close-knit family of eight is resourceful and courageous, developing a dependence on God that is far more secure and rewarding than any earthly or material security.
Based on the experiences of a real family, this book portrays loving home relationships and parental teaching that builds strong Christian character and faith.
Written for junior and intermediate age children.
Contents

1. Lost?
2. The Longest Night
3. Snowstorm
4. Snowbound
5. Winter Wonders
6. Night Visitors
7. Story Time
8. Across the Ice
9. Spring Prowler
10. Wagon Car
11. Kindness
12. Pride
13. Plans
14. Sheepshearing
15. Fleece Lessons
16. Working Together
17. Company
18. Slab Shack
19. Happiness
20. Summer Twilight
21. Disappointments
22. Hailstorm
23. Learning God's Care
24. Visiting Bush Mill
25. Fire!
26. Lodgers
27. Surprises
28. Without Father
29. The Second Day
30. Third Day
31. Ice Fishing
32. Night Chorus
33. Vacation Days
34. Letters
35. Moving
Customers who bought this product also bought
Customers who viewed this product bought