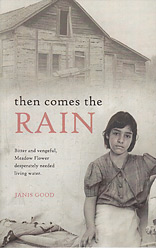 Then Comes the Rain
Paper cover
236 pages
0.606 lbs
Item #4-265865
Bitter and vengeful, Meadow Flower desperately needed living water.
Meadow Flower faced a hard future. Society scorned her people. Her father was old and unwell, and her mother repeatedly abandoned the family. Picking crops with migrant people during the Great Depression, sleeping under the stars, and scavenging for food for her siblings forced nine-year-old Meadow Flower to become tough and self-reliant.
A social worker took the neglected children to an almshouse, where terrible conditions and excessive restrictions intensified Meadow Flower's fight for survival. By adulthood, Meadow Flower was weighed down with the baggage of deep poverty, violent anger, and an unhappy marriage. She would never amount to much—or would she?
The something amazing happened in Meadow Flower's dry, dusty soul. Living water—powerful, refreshing, and life-changing—revived her soul and gave her purpose. God used Meadow Flower's disappointments and disadvantages to equip her for the work He called her to do. Then Comes the Rain tells the true story of Meadow Flower's life.
Contents

Section One

1. Native Roots
2. Harsh Realities
3. Mixed Creeds
4. Torn Apart
5. Fields and Sky
6. Alone
7. Migrant Life
8. Deprived
9. Captured
10. The Almshouse
11. Escape
12. Desperate Desire
13. Dire Consequences
14. Christmas
15. Goodbye, Daddy!
16. New Home
17. Family Connections
18. Shock!
19. Together and Apart
20. Migrating Again

Section Two

21. Baltimore
22. Starry Eyes and Butterflies
23. Hitched
24. That Car!
25. Revenge
26. Real Stories
27. Wildwood Church
28. Scraps and Pieces
29. Miracle
30. In This Heart

After the Story
Words From Meadow Flower
Author's Note
You May Have It Too
Psalm 77:1-15
Customers who bought this product also bought
Customers who viewed this product bought