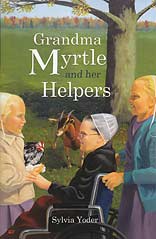 Grandma Myrtle and Her Helpers
Paper cover
127 pages
0.372 lbs
Item #41-3185
"I didn't know this was about having fun," Mama said soberly. "It's about taking care of Grandma. A life of service isn't about us and what we want to do. It's about doing what we know we should do for others."
Though Grandma Myrtle has multiple sclerosis and cannot walk, she enjoys many of the same things most grandmas do: birds and pets, the outdoors, letters in the mail, snowmen, shopping trips, and spending time with her grandchildren. Through surgeries and sickness and long days of sitting on her couch, Grandma strives to be cheerful and grateful.
The Yoder children serve as Grandma Myrtle's helpers. Through the ups and downs of daily life, caregiving, and pushing Grandma's wheelchair, they learn that true fulfillment comes from willingly offering their hands and feet to someone in need.
Table of Contents

Introduction
1. Hands and Feet for Grandma Myrtle
2. A Bag for a Bladder
3. Betty Washes Feet
4. Grandma Enjoys the Animals
5. What the Doctors Found
6. A Day at the Hospital
7. Factory Teeth
8. A Fluffy Brown Pomeranian
9. Peanut and Prayers
10. A Snowman for Grandma
11. Patience and Play Dough
12. Spray Bottles and Shopping
13. Minnows and Whales
14. Shower Time
15. Choosing Willingness
16. A New Body—Someday
About the Author
Customers who bought this product also bought
Customers who viewed this product bought