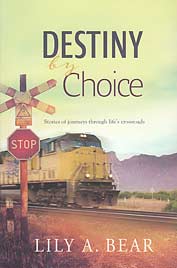 Destiny by Choice
Paper cover
244 pages
0.894 lbs
Item #41-3181
Defining moments—we all face them. Times of testing. Personal crises. The crossroads of life.
Destiny by Choice is a collection of true stories. Mennonite author Lily Bear draws from a lifetime of writing experience to tell about people at the crossroads.
Though each journey is different, the characters have one thing in common: God is asking them to choose the right path.
Tempered Through Trials—Jacob, a peace-loving follower of Christ living in Alberta, Canada, has every reason to wonder what will happen to him when he faces the draft for World War II. In time, his trials begin to make more sense.
God, Where Are You?—Paul and Angela leave all to serve Jesus in remote Papua New Guinea. The mission God has for them is more trying than they ever imagined—and far more beautiful.
No Promise of Tomorrow—Galen, Kenneth, and Lamar: three men in their prime, three different outcomes. God asked them to consider their ways. How did they respond?
These stories and others give a sober reminder that choices take people places—and eventually to one of two eternal destinies. Choose this day whom you will serve, and choose well.
Table of Contents

Preface
Author's Introduction
Roadside Assistance
Caught in the Current
Cry of a Seeking Heart

Part One: Who Is God?
Part Two: Entering the Storm
Part Three: Shelter of Safety

Emergency Landing
Fear in the Jungle
Tempered Through Trials

Part One: War Bonds and Questions (1939)
Part Two: Hardships in Russia (1905-1924)
Part Three: Hardships in Canada (1924-1933)
Part Four: Standing for Truth (1939)
Part Five: The Call to Service (1942)
Part Six: What Future? (1996)

Destiny by Choice

Part One: Ellen
Part Two: Todd

Who Will Be My Daddy?
Weighed in the Balance: Stories of Three Lives

Part One: Galen
Part Two: Kenneth
Part Three: Lamar

Trust—Prayer—Praise
Living the Dream
The Verse on the Wall
Lesson From the Mango Seed
About the Author
Customers who bought this product also bought
Customers who viewed this product bought