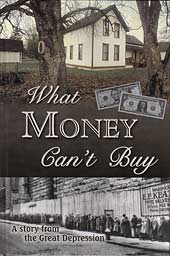 What Money Can't Buy
Hard cover
368 pages
1.17 lbs
Item #1-2471
A story from the Great Depression
Annie dashed through the bitterly cold twilight and entered the dim barn. Its heavy beams creaked from the cold. Cobwebs swayed in the corners. A thick smell from a hundred years of hay and cows emanated from the stalls, floor, and the very walls.

Annie reached for the lanterns and matches and then stopped, absorbing the silence, letting herself be still. If she and her family needed to leave the farm, she wanted to remember the barn like this.

If.

Annie leaned against the wall and shut her eyes.
Caught in the vortex of the Great Depression, the Hess family needs to work and sweat and pray for every mortgage payment on their Ohio farm. Their savings disappear when the bank fails, and prices for farm goods drop ever lower. Disaster sweeps across the entire nation, and no one knows when—or if—things will get better.
But even when life seems to hopelessly out of control, fourteen-year-old Annie finds that God is still unchanging and eternal source of true riches.
This is a story of faith and trust, of loving and sharing, of giving and receiving.
Customers who bought this product also bought
Customers who viewed this product bought