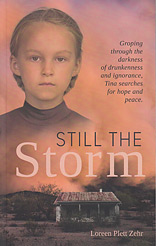 Still the Storm
Paper cover
397 pages
0.95 lbs
Item #4-265535
Groping through the darkness of drunkenness and ignorance, Tina searches for hope and peace.
"You ask about this picture all the time, Tina!" Mom exclaimed as Tina pointed to the drawing of the Man on the cross. "I don't know why they did it to Him. His name is Jesus. Now stop asking!" Mom turned back to rinsing the clothes. "Besides, you ought not to have the book outdoors."
Somberly, but still staring at the picture, Tine retraced her steps. The Man had to be in a lot of pain! Those were huge nails. She counted again, "One, two, three, four, five." Five places dropped blood—from His outstretched hands, from His feet, and from His side. He had died there on the cross. But why? For sin? What did that mean? And what did it have to do with her?
Raised in an Old Colony Mennonite setting in Mexico, Tina faced many adversities, storms that threatened her quest for truth. Illiteracy. Abuse. Mockery. Drunkenness. Doubt. Tragedy. Would she ever find the One who holds the answers and stills the storms?
Contents

[maps]
Introduction
Author's Note
Preface
1. The Dust Storm
2. Bottles and Bread
3. Going to Thursday
4. Noodles and Nails
5. Just Another Stupid Harms
6. Arandas Horror
7. "Make Cheese or Else—"
8. Camerón Grande
9. Bloody Feet
10. The Ranch at El Tule
11. "What Is Hell?"
12. Back to Campo 17
13. Relatives and Religion
14. Cuauhtémoc? Why?
15. Who Can Go to Heaven?
16. The Altenheim
17. That Young Man
18. La Quinta
19. Gossip and Guilt
20. Can I Pray?
21. The Price of Sin
22. The White Cupboard
23. Baptism and Verlobung
24. Death for Real
25. Noela—Our Angel
26. Sweet Eva
27. Sinners and Searching
28. The Black Night
29. The Purple Dress
30. The Plattdeutsch Bible
31. God, Help Us!
32. In the Hands of the King
33. Lonely in Nebraska
34. Another Storm
35. Two Mothers
36. Which Church?
37. Isaac's Wheelchair
Acknowledgements
Customers who bought this product also bought
Customers who viewed this product bought