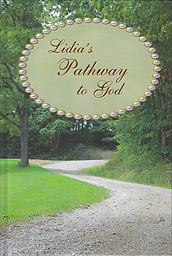 Lidia's Pathway to God
Hard cover
314 pages
1.056 lbs
Item #1-2524
Lidia Kemp and her parents attended the Lakeshore Mennonite Church, a new outreach congregation. Although her father was one of the ordained leaders of the church, Lidia had never become a member herself. She had experienced the new birth and had gone through instruction class.
Then something had happened—something that took her eyes off Christ. And now, at eighteen years old, she was bound so tightly in its grip that she was powerless to break free. She knew that God's power was available, but the road of repentance and confession looked too high a price to pay for victory.
God was watching the battle for Lidia's soul, and He loved Lidia. With infinite mercy, He shaped the events in her life to draw her to Himself. Lidia's Pathway to God is a beautiful portrayal of Christ's power to change a life from self-centeredness and rebellion to humble service for God.
Customers who bought this product also bought
Customers who viewed this product bought