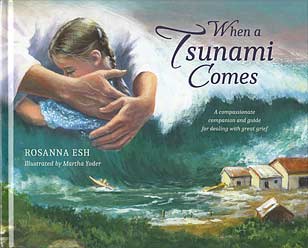 When a Tsunami Comes
Hard cover
44 pages
0.824 lbs
Item #4-265410
A compassionate companion and guide for dealing with great grief
Disappointments come to everyone. They come in all sizes. Some are temporary and can be fixed. Others are like scary storms that shake us up but eventually pass, and life returns to normal.
And then there are tsunamis. They are the kind of storm no one ever wants or ever dreams would happen. But one day, while life is going on as usual, it happens. A devastating tsunami strikes, leaving in its wake incredible destruction and pain. The ruin and loss are stunning. Life will never be the same again.
When a Tsunami Comes was written from the heart of someone struck by a tsunami. Members of the Esh family and two friends were on their way to a wedding when a tractor trailer smashed into their van, snatching the lives of ten occupants and the truck driver. Only two young boys survived. It was a heart-wrenching and utterly life-changing tragedy.
The journey to healing is long, winding, and tortuous. Along the way, the Esh family found that God is faithful and good. With expressive paintings and simple language for young and old, When a Tsunami Comes grieves with the grieving while pointing to the God of all comfort.
Customers who bought this product also bought
Customers who viewed this product bought