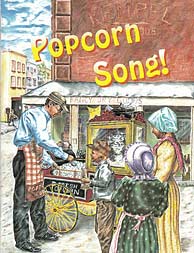 Popcorn Song!
Soft cover
32 pages
0.172 lbs
Item #1-2535
All ages will enjoy this book about popcorn! The first part of the book is a story poem, which tells about planting, harvesting, popping, and enjoying popcorn. The last part gives some popcorn facts and history.
Did you know...?
The largest recorded kernel of popcorn measured 37 centimeters around.
About 498,000 tons of popcorn are grown in the United States each year.
In a year's time, an American eats about 68 quarts of popcorn.
If you enjoy popcorn, read this book to learn more interesting facts about one of our favorite snacks!
Customers who bought this product also bought
Customers who viewed this product bought