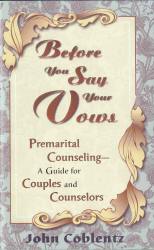 Before You Say Your Vows - Premarital Counseling
Paper cover
61 pages
0.22 lbs
Item #4-241320
A Guide for Couples and Counselors
We live in an age of electronic communication, digital sound, and high-tech computers. But for all our push-button know-how, we are less connected and are relating more poorly than ever before. Couples fight. Marriage split. Families crumble. In the aftermath of poor family relationships, children often enter adulthood not only hungry for closeness, but also ill-equipped to handle it. Partners reach for marriage to satisfy a deep longing for something they never had, only to find more of the same trouble they had in childhood. Pain. Rejection. Loneliness.
Careful preparation is foundational to a good marriage. Before You Say Your Vows helps couples look honestly at issues fundamental to marriage. No marriage will be stronger than the partners who make the marriage. The guide does not "fix" problem areas. It helps partners face who they are. It guides partners toward what God wants them to be. It shows the Biblical principles that govern closeness, communication, and lifelong commitment.
Before You Say Your Vows will be appreciated by pastors and parents, as well as by couples serious about making lifetime commitments.
Contents

Introduction
How to Use This Guide
Lesson 1: Personal Background
Lesson 2: Roles in Marriage
Lesson 3: Communication in Marriage
Lesson 4: Values and Beliefs
Lesson 5: Principles for Finance
Lesson 6: Principles for Intimacy
Customers who bought this product also bought
Customers who viewed this product bought