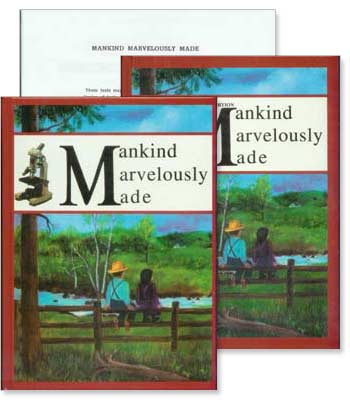 Grades 7-8 Health - Mankind Marvelously Made - Set
(This course is published by Schoolaid, not by Rod and Staff Publishers.)
Foreword

Mankind Marvelously Made is written on a relatively easy seventh and eighth level in both text and content. It is divided into four units, as follows: The Human Body (our physical make-up), Food Study (nutrition, preparation, and preservation of food), Safety and First Aid, and Mental Health (psychology). Each unit is self-contained, not depending on any of the other units for foundation knowledge. This means you can study the units in any rotation—it doesn't matter which is first or last.

The exercises and study guide questions are designed to guide the study of the text and help the students retain what they have read. All exercises and questions are to be done on paper or a separate notebook. Copywork is beneficial in several ways: Writing out answers makes a deeper impression on the mind. If strictly enforced, it also teaches careful and accurate work. Along with that, it gives practice in following instructions and finding information which is an important skill that helps a person in every station of life.

The annotated teacher's edition contains many notes to help the teacher. It also has a special section to guide the teacher in practice sessions for first aid. It contains the answers to the exercises, study guide questions, and the tests. Tests for the student are available in booklet form. This booklet also contains pages with an emergency checklist to be sent home with each student when they do the Safety and First Aid unit.
Contents

Unit One: The Human Body

Introduction

The Body Parts
Within the Systems
Within the Cells
Cell Reproduction

Chapter 1: The Skeletal System

The Axial Skeleton
The Appendicular Skeleton
Bone Structure

Chapter 2: The Muscular System

Kinds of Muscles
How Muscles Work
Keeping Muscles Healthy
The Miracle of the Hand
Body Mechanics

Chapter 3: The Nervous System

Tragedy Strikes
Outline of the Nervous System
The Central Nervous System
The Peripheral Nervous System
The Autonomic Nervous System
A Closer Look at the Brain
A Healthy Nervous System

Chapter 4: The Digestive System

The Alimentary Canal
Digestion
A Healthy Digestive System

Chapter 5: The Circulatory System

The Blood
Blood Vessels
The Heart

Chapter 6: The Respiratory System

Organs of the Respiratory System
The Mechanics of Breathing
Respiration Problems

Chapter 7: The Immune System

Structural Defences—The First Line
The Lymphatic System—Second Line
Chemical Defense—The Third Line

Chapter 8: The Endocrine System

Chemical Messengers
A Closer Look at Some Endocrine Glands
Effects of Stress

Chapter 9: The Excretory System

Organs of the Excretory System
The Health of Kidneys

Chapter 10: Integumentary System

The Epidermis
The Dermis
The Subcutaneous Layer

Unit Two: Food Study

Chapter 1: Nutrition

The Five Essential Nutrients
Energy

Chapter 2: Your Daily Diet

The Four Food Groups
Meal Planning
Supplements

Chapter 3: The Basics of Cooking

Terms Used in Recipes
Ingrediends—How to Use Them
Correct Measuring Methods

Chapter 4: Safe Food

Sanitation
Safe Food Storage
Putting Foods By

Unit Three: Safety and First Aid

Chapter 1: Farm Safety

Confined Spaces
Manure Storage Hazards
Silo Gases
PTO Safety
Skid Steer Loader
Tractor Safety
Farm Pond Safety / Animal Safety
Rabies

Chapter 2: Hazards Around the Rural Home

Fire—Friend or Foe?
Propane, Gasoline, Kerosene
Power Tools
Bicycles, Scooters, and SMV's

Chapter 3: Weather Related

Heat Hazards
Storms
Frostbite Danger

Chapter 4: Sports and Recreation

Water Safety
In the Wilderness

Chapter 5: Safety and First Aid

The First Essentials
First Aid for Shock
Artificial Respiration
Choking
Poisoning
Bleeding
Broken Bones
Burns
Epilepsy, Stroke, Heart Attack

Unit Four: Mental Health

Chapter 1: Establishing Mental Health

What Is Mental Health?
Emotions—What Are They?
Habits

Chapter 2: Improving Mental Health

Understanding Conflicts
Social Skills and Mental Health

Chapter 3: Maintaining Mental Health

Attitudes Tell
Controlling Emotions
Using the Problem Skills
Positive Communication
Customers who bought this product also bought