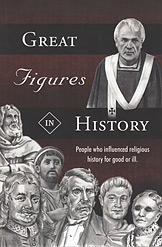 Great Figures in History
Paper cover
224 pages
0.576 lbs
Item #28-1124
People who influenced religious history for good or ill.
History need not be dry. This books gives the reader a very accessible snapshot of the lives of more than thirty key figures in religious history.
In addition to well-known people in history, some of whom we list in this book, there have been millions more who worked behind the scenes as helpers. Famous authors needed un-famous editors and printers. Famous evangelists needed people who invited friends to the meetings. Famous Bible translators needed wives and sons and daughters who would help them, sometimes by knowing when to leave them alone.
In God's sight, the unknown individuals are just as great as those who are better known. God bless them all. And, unknown readers, God bless you all.
Table of Contents

Introduction
The Greatest Figure of All
Buddha: Founder of Buddhism
Confucius: Leader of Chinese Thought
Polycarp: Early Church Leader
Constantine: Freedom for Christians
Augustine: New Errors for Old Heresies
Patrick: "Apostle" to Ireland
Muhammed: The Birth of Islam
Peter Waldo: The Waldensians
John Wycliffe: Morning Star of the Reformation
Martin Luther: The Reformation Begins in Germany
The Radical Trio: The Swiss Brethren Forge Ahead
Michael Sattler: A Sign in the Fire
Menno Simons: A Good Name for the Anabaptists
John Calvin: A TULIP Takes Flower
John Knox: The Reformation Comes to Scotland
Henry VIII: The Reformation Begins in England
William Tyndale: A New Bible for English Readers
Jacob Arminius: A Calvinist Who Changed His Mind
John Bunyan: A Pilgrim Who Progressed
William Penn: The Man Pennsylvania Was Not Named After
Isaac Newton: A Dreamer Who Made Good
John Wesley: The Methodist Movement Is Born
Isaac Watts: Father of English Hymnody
William Carey: Father of Modern Missions
Charles Finney: Lawyer Turned Evangelist
Charles Darwin: A Book That Argued for Evolution
David Livingstone: "I Will Open a Path Through the Country"
Karl Marx: Father of Communism
George Mueller: Quiet Faith in a Dependable God
Dwight Moody: A Simple Gospel for Multitudes
Fanny Crosby: A Poet Who Gave Herself Away
Charles Taze Russell: Founder of Jehovah's Witnesses
Martin Luther King, Jr.: Civil Rights Leader
Billy Graham: International Evangelist
The Forgotten Figures of History
Customers who bought this product also bought
Customers who viewed this product bought