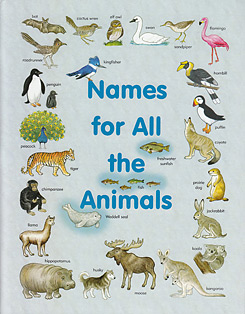 Preschool - Names for All the Animals
Paper cover
64 pages
0.41 lbs
Item #1-10042
A supplement to the GHI Series. Also available in the preschool complete program set.
God made the best home for each animal. Some live in polar lands, rainforests, woodlands, grasslands, desert lands, the mountains, or the oceans. Realistic drawings of 45 birds, 85 animals, and 10 fish are listed alphabetically, along with size, color, and other facts about each creature, including its habitat. All of these animals can be found in the six workbooks of the G-H-I series.
This miniature encyclopedia also includes some pages of oral exercises that give practice with counting, naming animals, matching, finding differences, following "trails," and more. Colorful artwork enhances each page.
Because this unique reference book is not designed to be written in like the previous books in the series, one copy per family is all you need.
Customers who bought this product also bought
Customers who viewed this product bought