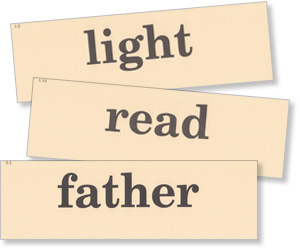 Grade 1 [PREV EDITION] Vocabulary Flash Cards
Flash cards for Grade 1 Reading 2nd Edition (1985-1986). This edition is not compatible with the current 3rd edition (2016).
250 cards; size: 8.75" x 2.75"
There is a word card for each reading word introduced in the first two units. There are 61 cards for Unit 1 and 189 cards for unit 2, and the teacher's manual will recommend when to use them. Flash cards push the child toward quicker word recognition. They help keep the child alert, and are a great way to review.
To cut costs, you could use the list below to make your own.
Following is a list of the flash cards used per lesson.

Unit 1

1:1 - God
1:2 - made
1:2 - light
1:3 - the
1:3 - sky
1:4 - big
1:4 - little
1:5 - he
1:5 - is
1:6 - are
1:6 - good
1:7 - a
1:7 - some
1:8 - day
1:8 - everything
1:9 - see
1:9 - what
1:10 - can
1:10 - do
1:11 - very
1:11 - yes
1:12 - we
1:12 - us
1:13 - every
1:13 - things
1:14 - said
1:14 - read
1:15 - want
1:15 - to
1:15 - it
1:16 - not
1:16 - no
1:17 - night
1:17 - and
1:18 - something
1:18 - in
1:18 - on
1:19 - all
1:19 - time
1:20 - at
1:21 - like
1:21 - about
1:22 - was
1:23 - man
1:23 - Adam
1:23 - first
1:24 - Eve
1:24 - help
1:25 - did
1:25 - obey
1:26 - home
1:26 - for
1:27 - Satan
1:27 - bad
1:27 - likes
1:28 - love
1:28 - loves
1:29 - she
1:29 - but
1:30 - punished
1:30 - loved

Unit 2

2:1 - gave
2:1 - father
2:1 - wants
2:1 - fathers
2:1 - mother
2:1 - mothers
2:1 - our
2:2 - him
2:2 - too
2:2 - because
2:2 - children
2:2 - does
2:2 - of
2:3 - had
2:3 - helps
2:3 - make
2:3 - obeyed
2:3 - happy
2:3 - they
2:3 - when
2:4 - daytime
2:4 - makes
2:4 - so
2:4 - sun
2:4 - that
2:4 - work
2:4 - should
2:5 - lights
2:5 - moon
2:5 - nighttime
2:5 - quiet
2:5 - rest
2:5 - stars
2:6 - called
2:6 - way
2:6 - would
2:6 - gives
2:7 - thing
2:7 - more
2:7 - have
2:8 - be
2:8 - his
2:8 - sees
2:8 - someday
2:8 - homes
2:8 - them
2:8 - with
2:8 - family
2:9 - right
2:9 - now
2:9 - you
2:10 - might
2:10 - sometime
2:10 - then
2:10 - there
2:10 - your
2:10 - just
2:11 - each
2:11 - name
2:11 - animals
2:11 - has
2:11 - kind
2:11 - one
2:11 - animal
2:12 - fuss
2:12 - families
2:13 - others
2:13 - helpers
2:13 - glad
2:13 - other
2:14 - Cain
2:14 - this
2:14 - wanted
2:14 - Abel
2:14 - boys
2:14 - were
2:15 - let
2:15 - people
2:15 - godly
2:15 - sad
2:15 - why
2:16 - if
2:16 - angry
2:16 - done
2:16 - liked
2:17 - ask
2:17 - asked
2:17 - sorry
2:17 - still
2:17 - talked
2:18 - hate
2:18 - kill
2:18 - killed
2:18 - who
2:19 - Cain's
2:19 - I
2:19 - lie
2:19 - say
2:19 - where
2:19 - knew
2:19 - know
2:19 - told
2:20 - will
2:20 - wrong
2:21 - am
2:21 - could
2:21 - soon
2:21 - destroy
2:21 - many
2:21 - most
2:22 - am
2:22 - destroyed
2:22 - go
2:22 - into
2:22 - man's
2:22 - wife
2:22 - ark
2:22 - Noah
2:22 - sons
2:22 - three
2:22 - punish
2:22 - Noah's
2:23 - earth
2:23 - going
2:23 - how
2:23 - safe
2:23 - as
2:23 - cover
2:23 - flood
2:23 - mountains
2:23 - tells
2:24 - eat
2:24 - food
2:24 - helped
2:24 - lot
2:24 - need
2:24 - take
2:24 - these
2:24 - took
2:24 - long
2:24 - days
2:25 - come
2:25 - rain
2:25 - up
2:25 - been
2:25 - calls
2:26 - covered
2:26 - nights
2:26 - out
2:26 - rained
2:26 - shut
2:26 - son's
2:26 - began
2:26 - two
2:26 - water
2:26 - came
2:26 - sends
2:26 - went
2:27 - down
2:27 - tops
2:27 - after
2:27 - forty
2:27 - last
2:27 - window
2:27 - opened
2:27 - stopped
2:27 - top
2:27 - lets
2:27 - waters
2:28 - again
2:28 - back
2:28 - dove
2:28 - send
2:28 - sent
2:28 - raven
2:29 - kept
2:29 - promise
2:29 - rainbow
2:29 - remember
2:30 - any
2:30 - doing
2:30 - same
2:30 - away
2:30 - finish
2:30 - tower
2:30 - only
2:30 - talk
2:30 - tell
2:30 - from
Customers who bought this product also bought
Customers who viewed this product bought