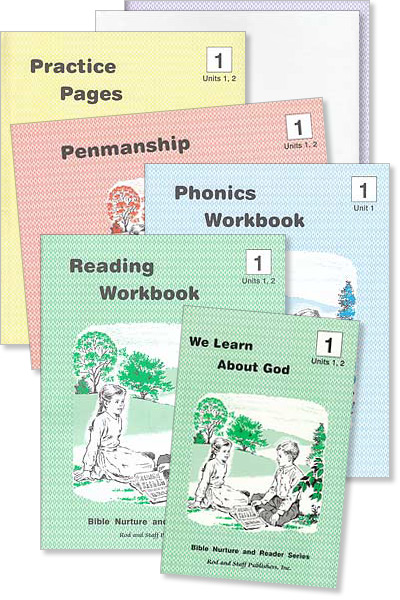 Grade 1 Reading "We Learn About God" Set [3rd Ed]
This set includes:

# in

My Cart

Reader Units 1,2
$9.00

Reader Units 3,4
$12.30

Reader Units 5,6
$14.35

Reading Workbook Units 1,2
$4.75

Reading Workbook Units 3,4
$5.95

Reading Workbook Units 5,6
$5.95

Phonics Workbook Unit 1
$4.20

Phonics Workbook Unit 2
$5.70

Phonics Workbook Unit 3
$5.95

Phonics Workbook Unit 4
$5.95

Phonics Workbook Unit 5
$5.95

Phonics Workbook Unit 6
$5.95

Penmanship Units 1,2
$6.30

Penmanship Units 3,4
$7.50

Penmanship Units 5,6
$7.50

Reading Worksheets Units 1-5
$14.10

Reading Worksheets Unit 6 "My Picture Dictionary"
$4.75

Practice Pages Units 1,2
$9.00

Practice Pages Units 3,4
$12.30

Practice Pages Units 5,6
$9.90

Reading Blacklines
$16.50

Reading Teacher's Manual
$27.00

Phonics Teacher's Manual
$27.00

This set includes:

23 items
(Only the first book of each main component is pictured above.)
You can also order the consumables-only set for an additional student.
These materials are not compatible with the 2nd Edition (1985-1986). Read more about changes in Rod and Staff's revised Grade 1 Reading curriculum...
The 3rd Edition of the Grade 1 Bible Nurture and Reader Series provides texts and workbooks for most of the first grade pupil's basic needs—reading, phonics, language, spelling, penmanship, and Bible memory. Separate math, music, and art courses are available to round out the first grader's curriculum.
No previous reading experience is necessary, as this program introduces the alphabet with basic letter sounds, and then uses a combined approach of phonics and sight word instruction. This edition has a greater emphasis on phonics than former editions. It contains considerably fewer sight words, and has much more drill and practice built into it. The stories are from the Bible, but have been rewritten to fit new word lists.
This course is arranged into 6 units, with a total of 160 lessons. (In essence, the "pre-reading" lessons of the 2nd edition have here been expanded into their own unit.) Unit 1 has 15 lessons, Unit 2 has 25 lessons, and Units 3-6 have 30 lessons each. Each lesson has 6 divisions: Reader, Reading Workbook, Phonics Workbook, Penmanship Workbook, Worksheet(s), Practice Page(s), and sometimes Blackline(s). All of these divisions relate to one another in a given lesson, thus thoroughly acquainting the child with the lesson for each day.
Readers
We Learn About God (Units 1-2)
We Learn About God's People (Units 3-4)
We Learn More About God's People (Units 5-6)
The first unit introduces God as Creator, Provider, and Protector, and provides reading readiness lessons. Incorporating practical applications, the second unit reviews the story of Creation and the Fall of Man; and the third unit continues with the stories of Cain and Abel and Enoch and Noah. The fourth unit, in poetry form, includes practical applications and accounts from the Creation until after the Flood. The fifth unit has stories about Abraham, Isaac, Jacob, and Joseph. The sixth unit has stories about Jesus from the Gospel of Matthew.
Reading Workbooks
The reading workbooks have 2 pages for each lesson. The exercises are closely associated to the corresponding lessons in the readers. These exercises include practice with the vocabulary words, practice in writing sentences, drills for developing comprehension skills, and seatwork in various forms.
Phonics Workbooks
Each phonics lesson contains 4 pages of seatwork. The first unit teaches the basic short vowel sounds and some single consonants. Unit 2 teaches more single consonant sounds. Unit 3 teaches long vowels and some of their various spellings, along with most consonant digraphs and blends. Unit 4 teaches vowel digraphs, special vowel sounds, some suffixes, and two-syllable words. Unit 5 introduces silent letters, word endings, compound words, and special spellings. Unit 6 introduces prefixes, teaches more special endings and spellings, and has much review.
Penmanship Workbooks
The penmanship workbooks that accompany this series teach strokes needed to form each letter as it is introduced in the phonics lessons. The lessons provide much practice to develop the needed printing skills, and students also write their spelling words as part of their penmanship lesson. The instructions for using these workbooks are in the Phonics Teacher's Manual.
(These workbooks are also available in a Penmanship set together with a separate teacher's manual for standalone instruction.)
Worksheets
The worksheets provide constructive seatwork and exercises in cutting, pasting, etc. In the first four units, the worksheets are closely associated with the reading lesson or the Bible memory verse. In the fifth unit are language worksheets, which include copying poems, drawing simple pictures, and writing a simple description on their own. A picture dictionary is made in the last unit.
Practice Pages
These worksheets provide much practice and review of various skills in word recognition, reading comprehension, phonics, sequencing, penmanship, and much more. The teacher's manuals direct the timing of their use.
Blacklines
Blacklines are reproducible worksheets that provide much practice and review of various phonetic skills for those who need more practice, or for those who need extra, profitable seatwork to keep them occupied. The blacklines also include reading and phonics tests, word-helper charts and patterns to make word-helper flash cards, edge lists (used with a timer to improve reading speed), and more. The phonics teacher's manual directs the timing of their use.
Teacher's Manuals
Two teacher's manuals are needed to cover the six units of this course. The Reading Teacher's Manual gives general suggestions, drills, and detailed procedures for teaching the reading-thinking skills, vocabulary concepts, and reading comprehension skills that pertain to each lesson. The Phonics Teacher's Manual gives specific instructions for teaching the letter sounds—how they fit together to make words and how they are taken apart to spell words. Instructions on when and how to use the penmanship workbooks, worksheets, practice sheets, and blacklines are given in the teacher's manuals, which also include reduced copies of workbook and practice pages, and the blacklines with the answers in red. By carefully following the directions, the inexperienced teacher can successfully teach this course.
Supplementary items (not included):
Unit 1
Phonics
Reading
Lesson

1. Short a
2. Short e
3. Distinguishing /ă/ and /ĕ/
4. Short i
5. Distinguishing /ĕ/ and /ĭ/
6. Distinguishing /ă/, /ĕ/ and /ĭ/
7. Short o
8. Short u
9. Five Vowel Sounds in Order
10. Ss
11. Word Helpers: sa, se, si, so, su
12. Tt and Word Helpers: ta, te, ti, to, tu
13. Three-letter Words
14. Mm and Word Helpers: ma, me, mi, mo, mu
15. Three-letter Words With m

1. God Made Colors (distinguishing colors)
2. "I Shall Not Want" (color: brown)
3. "He Maketh Me to Lie Down in Green Pastures" (color: green)
4. "He Leadeth Me Beside the Still Waters" (color: blue)
5. "He Restoreth My Soul" (color: red)
6. "He Leadeth Me in the Paths of Righteousness" (color: yellow)
7. "I Will Fear No Evil" (color: black)
8. "My Cup Runneth Over" (color: purple)
9. "I Will Dwell in the House of the Lord For Ever" (color: orange)
10. Consider the Lilies (color review)
11. Psalm 23 (direction word: color)
12. Samuel Answers (direction word: circle)
13. Moses and the Burning Bush (direction word: underline)
14. The Lame Man Healed (direction word: match)
15. David, From Shepherd to King (review)

Unit 2
Phonics
Reading
Lesson

1. Review of s, t, m
2. Cc and Kk: Sound, Helpers, and Words
3. Review
4. Review
5. Bb: Sound, Helpers, and Words
6. Ff: Sound, Helpers, and Words
7. Review
8. Nn: Sound, Helpers, and Words
9. Yy: Sound, Helpers, and Words
10. Review
11. Pp: Sound, Helpers, and Words
12. Ww: Sound, Helpers, and Words
13. Hh: Sound, Helpers, and Words
14. Rr: Sound, Helpers, and Words
15. Review
16. Gg: Sound, Helpers, and Words
17. Ll: Sound, Helpers, and Words
18. Dd: Sound, Helpers, and Words
19. Vv: Sound, Helpers, and Words
20. Review of Sounds, Helpers, and Words
21. Jj: Sound, Helpers, and Words
22. Xx: Sound, Helpers, and Words
23. Zz: Sound, Helpers, and Words
24. Qq: Sound, Helpers, and Words
25. Review

1. God
2. Day 1
3. Yellow Light
4. Day 2
5. Blue Sky
6. Day 3
7. Day 4
8. Day 5
9. Day 6
10. The Man
11. The Woman
12. God Made Everything
13. Day 7
14. God Is Good to Us
15. God Can See Us
16. We See What God Made
17. God Is Light
18. God Can Do Everything
19. The First Man
20. The First Woman
21. The First Home
22. A Happy Home
23. Bad Satan
24. A Sad Home
25. God and Adam and Eve
Unit 3
Phonics
Reading
Lesson

1. Long a
2. Long e
3. Long i
4. Long o
5. Long u
6. Long a Spellings: a-e, ai, ay
7. Long e Spellings: ee, ea, -e
8. Long i Spellings: i-e, ie, -y
9. Long o Spellings: o-e, oa, -oe, -ow, -o
10. Long u Spellings: u-e, ew
11. Review
12. Consonant Digraph: sh
13. Consonant Digraph: th
14. Consonant Digraph: wh
15. Consonant Digraph: ch, tch
16. Endings: ng, nk
17. Beginning Blends: st, sm, sc, sk
18. Beginning Blends: sl, sn, sp, sw
19. Beginning Blends: bl, br, cl, cr
20. Beginning Blends: fl, fr, gl, gr
21. Beginning Blends: pl, pr, tr, tw
22. Review
23. Beginning Blends: dr, scr, spr, str
24. Beginning Blends: spl, squ, shr, thr
25. Review
26. Ending Blends: lt, lk, lp, lf
27. Ending Blends: -sp, -st, -sk, -xt
28. Ending Blends: nt, ft, pt, ct
29. Ending Blends: -mp, -nd, -nch
30. Review

1. Father and Mother
2. Children
3. The First Family
4. Happy Families
5. Work
6. Cain
7. Able
8. Something to Give God
9. Abel Gave His Best
10. Sad Cain
11. Angry Cain
12. What an Angry Man Did
13. A Lie
14. God Had to Punish Cain
15. Many Families
16. Enoch
17. What Made God Sad
18. Noah
19. God Saw Noah
20. What God Told Noah
21. Work for Noah
22. The Big, Big Ark
23. The Door Is Shut
24. Safe in the Ark
25. The Ark on a Hill
26. The Raven and the Dove
27. Dry Ground
28. Out of the Ark
29. The Rainbow
30. We Thank God

Unit 4
Phonics
Reading
Lesson

1. Special endings: -ild, -ind
2. Special endings: -ost, -old, -olt, -oll
3. Digraph oo = /o͞o/
4. Digraph oo = /oo/
5. Other spellings for /o͞o/ and /oo/
6. Dipthongs: oi, oy
7. Dipthongs: ou, ow
8. Review
9. Vowels With r: er, ir, ur = /ûr/
10. Vowels With r: ar = /är/
11. Vowels With r: or = /ôr/
12. Review of Vowels With r
13. Vowel Sounds: /ô/ = o, aw
14. Other Spellings for /ô/
15. Two-syllable Words
16. Sometimes s = /z/
17. Suffixes in Plurals: s, es
18. Suffixes in Verbs: s, es
19. Suffix: -ed
20. Suffix: -ing
21. Review of Suffixes
22. Sometimes y = /ē/
23. Sometimes c = /s/
24. Sometimes g = /j/
25. Letters dge = /j/
26. Review of Rules for Long Vowels
27. Review Sounds of o and Diphthongs
28. Review of Vowels with r
29. Review of Sounds of s and y
30. Review of Sounds of c and g

1. Adam
2. Bible
3. Children
4. Duties
5. Enoch
6. Fathers
7. Alphabet Review—ABCDEF
8. God
9. Heaven
10. Inside
11. Judgment
12. Keeping
13. Little
14. Alphabet Review—GHIJKL
15. Mountain
16. Noah
17. Olive
18. Promise
19. Quickly
20. Rainbow
21. Alphabet Review—MNOPQR
22. Singing
23. Tower
24. Understand
25. Voices
26. Walking
27. Exactly
28. Yonder
29. Zig-Zag
30. Alphabet Review—STUVWXYZ

Unit 3 Word Lists
Unit 4 Word Lists
Unit 5
Phonics
Reading
Lesson

1. Silent Letters: kn, gn, wr
2. Silent Letters: gu, bu
3. Silent Letters: mb, gn, bt
4. Silent Letters: alk, tch
5. Review
6. Silent Letters: eigh, ough, augh
7. Words With ight and ite
8. Words That End With y
9. Words That End With /ī/
10. Words That End With /ē/
11. Long Vowels in Two-syllable Words
12. Compound Words
13. Compound Words
14. Vowels With r: ear, or = /ûr/
15. Vowels With r: air, are = /âr/
16. Vowels With r: eer, ear = /îr/
17. Vowels With r: oar = /ôr/
18. Vowels With r: ear = /âr/
19. Digraph ea = /ĕ/
20. Digraph ea = /ā/
21. Sounds of a, e, and u
22. Sounds of o
23. Sounds of ou
24. Rules for c and k
25. Double Consonant Endings
26. Exceptions to Final ss
27. Ending Sound /v/
28. Review of Dipthongs and -end Ending
29. Review of w, y, and -olt, -ost
30. Review of Consonant Digraphs and Blends

1. Abram Moves
2. No Quarrel for Abram
3. Trouble for Lot
4. Three Men Come to Abraham
5. Abraham Prays
6. A Big Fire
7. A Hard Test
8. Abraham Obeys
9. A Wife for Isaac
10. Rebekah
11. Isaac's Family
12. No Quarrels for Isaac
13. Jacob Gets the Blessing
14. Jacob Is Sent Away
15. Jacob and Laban
16. Jacob Moves
17. Jacob Wrestles
18. Joseph
19. Trouble for Joseph
20. Some Prisoners Dream
21. The King Dreams
22. Joseph the Ruler
23. Joseph's Brothers Come
24. The Brothers Buy Grain
25. A Trip for Benjamin
26. The Brothers Go Again
27. A Test for Joseph's Brothers
28. Judah Talks to Joseph
29. Joseph Tells Who He Is
30. Israel Moves

Unit 6
Phonics
Reading
Lesson

1. Endings: -tle, -ble, -ple
2. Endings: -gle, -dle, -kle, -ckle
3. Digraphs: ph, gh
4. Letters ti, si, ci = /sh/
5. Sometimes s = /zh/
6. Review
7. Suffixes: y, ly
8. Suffixes: ful, less
9. Suffixes: ed, ing
10. Doubling Consonants for Suffixes
11. Suffixes: er, est
12. Doubling Consonants for Vowel Suffixes
13. Not Doubling Consonants for Consonant Suffixes
14. Dropping Final e for Suffixes
15. When to Drop Final e
16. Review of Adding Suffixes
17. Prefixes: a, be, un
18. Prefixes: de, in, ex
19. Prefixes: re, dis, pre
20. Review of Prefixes and Suffixes
21. Review of Suffixes
22. Review
23. Review of Adding Suffixes
24. Review of Blends
25. Review of Medial Consonants
26. Review of Vowel Sounds
27. Review of Consonant Digraphs and Silent Letters
28. Review of Adding Suffixes
29. Review of Prefixes and Suffixes
30. Review of Adding Suffixes

1. A Special Star
2. King Jesus Is Safe
3. Jesus Is Baptized
4. Jesus Pleases His Father
5. Jesus in Galilee
6. Our Father in Heaven
7. Two Houses
8. Jesus Heals the Sick
9. Everything Obeys Jesus
10. The Power of Jesus
11. Jesus, the Great Helper
12. Planting Seeds
13. A Sad Birthday
14. Food for the Crowd
15. Walking on the Water
16. Crowds Come to Jesus
17. "This Is My Son"
18. Ninety-nine Sheep
19. Seventy Times Seven
20. A Rich Man
21. Hosanna in the Highest
22. A Wedding
23. Ten Girls and Ten Lamps
24. Three Servants
25. Jesus on the Throne
26. The Last Supper
27. Men Take Jesus
28. Jesus Before Pilate
29. A Dark Day
30. Jesus Is Alive

Unit 5 Word Lists
Unit 6 Word Lists
Customers who bought this product also bought
Customers who viewed this product bought