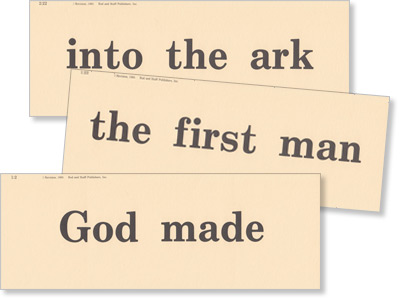 Grade 1 [PREV EDITION] Phrase Flash Cards
Flash cards for Grade 1 Reading 2nd Edition (1985-1986). This edition is not compatible with the current 3rd edition (2016).
222 cards; size: 11" x 4"
The Phrase Cards include phrases from the reading lessons in the first two units of Grade 1. There are 88 cards for Unit 1 and 134 cards for Unit 2, and the teacher's manual will recommend when to use them. They help to develop quick recognition and smooth reading.
To cut costs, you could use the list below to make your own.
Following is a list of the flash cards used per lesson.

Unit 1

1:2 - God made
1:2 - made light
1:3 - the sky
1:3 - the light
1:4 - big sky
1:4 - little light
1:5 - he made
1:5 - he is
1:5 - is little
1:5 - is big
1:6 - is good
1:6 - are big
1:6 - are good
1:6 - are little
1:7 - a light
1:7 - some are
1:8 - some day
1:8 - the day
1:8 - everything is
1:8 - everything good
1:9 - what is
1:9 - what are
1:9 - see the
1:10 - what can
1:10 - what do
1:10 - see what
1:10 - can do
1:11 - very good
1:11 - very big
1:11 - very little
1:11 - yes he can
1:12 - we can
1:12 - we can do
1:12 - see us
1:13 - every day
1:13 - good things
1:13 - some things
1:14 - we said
1:14 - can read
1:14 - we read
1:15 - it is
1:15 - said it
1:15 - want it
1:15 - to read
1:15 - want to read
1:16 - not want
1:16 - do not want
1:16 - no good
1:17 - every night
1:17 - some night
1:17 - day and night
1:18 - is in
1:18 - something good
1:18 - on something
1:18 - in the night
1:19 - all the time
1:19 - all night
1:20 - at night
1:20 - at a time
1:21 - about God
1:21 - we like
1:21 - like to read
1:22 - was good
1:22 - was very good
1:22 - it was
1:23 - the first
1:23 - Adam was
1:23 - the first man
1:24 - to help
1:24 - Eve was
1:24 - we help
1:25 - did obey
1:25 - did not obey
1:25 - did he
1:25 - did Adam
1:25 - did Eve
1:26 - for Adam
1:26 - at home
1:27 - Satan is
1:27 - is bad
1:27 - he likes
1:28 - we love
1:28 - God loves
1:29 - she loves
1:29 - but he said
1:29 - she likes
1:30 - but he loved
1:30 - he punished

Unit 2

2:1 - he gave
2:1 - he wants
2:1 - for father
2:1 - for mother
2:1 - our fathers
2:1 - our mothers
2:2 - he does
2:2 - all the children
2:2 - because he
2:2 - all of
2:3 - she helps
2:3 - they help
2:3 - are happy
2:3 - when we are
2:4 - should work
2:4 - that is
2:4 - we should
2:4 - to work
2:5 - moon and stars
2:5 - quiet night
2:5 - time to rest
2:6 - he called
2:6 - we would
2:6 - he gives
2:6 - the sun gives
2:7 - we have
2:7 - more and more
2:8 - his children
2:8 - our homes
2:8 - with them
2:8 - we can be
2:8 - our family
2:8 - in his home
2:9 - you are
2:9 - right now
2:9 - you can be
2:10 - then there is
2:10 - just right
2:10 - your work
2:10 - your might
2:10 - each one
2:11 - has a name
2:11 - one kind
2:11 - one of
2:11 - it has
2:11 - all the animals
2:12 - some families
2:12 - they fuss
2:13 - we are glad
2:13 - can be helpers
2:13 - help others
2:13 - others can
2:14 - Cain was
2:14 - Cain and Abel
2:14 - the boys were
2:14 - this is
2:15 - why are
2:15 - they let
2:15 - are sad
2:16 - were angry
2:16 - had done
2:16 - all the people
2:16 - angry people
2:17 - they talked
2:17 - was not sorry
2:17 - he asked
2:17 - still was
2:17 - talked to
2:18 - he killed
2:18 - should not kill
2:18 - should not hate
2:18 - who did
2:19 - where are
2:19 - should not lie
2:19 - should say
2:19 - they knew
2:19 - did not know
2:20 - will know
2:20 - will ask
2:20 - was wrong
2:21 - could be
2:21 - soon there were
2:21 - most of them
2:21 - will destroy
2:21 - many were
2:22 - into the ark
2:22 - three of them
2:22 - Noah's sons
2:22 - he destroyed
2:22 - will punish
2:22 - his wife
2:22 - an ark
2:23 - would be safe
2:23 - going to be
2:23 - be a flood
2:23 - it would cover
2:23 - cover the earth
2:23 - cover the mountains
2:23 - how to make
2:24 - a long time
2:24 - a lot to eat
2:24 - need to take
2:24 - took food
2:25 - it will rain
2:25 - will come up
2:25 - you have been
2:26 - it rained
2:26 - began to rain
2:26 - two and two
2:26 - was shut out
2:26 - the water covered
2:26 - they went
2:27 - at last
2:27 - the rain stopped
2:27 - after forty days
2:27 - opened the window
2:27 - tops of the mountains
2:27 - came down
2:28 - sent a dove
2:28 - again and again
2:28 - do it again
2:28 - send it back
2:28 - the raven came
2:28 - the dove came
2:28 - kept his promise
2:29 - remember his promise
2:29 - see the rainbow
2:30 - they were doing
2:30 - only one
2:30 - the same time
2:30 - made a tower
2:30 - could not finish
2:30 - away from
2:30 - not any more
Customers who bought this product also bought
Customers who viewed this product bought