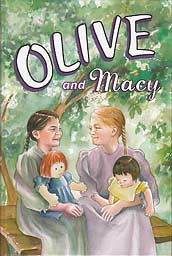 Olive and Macy
Hard cover
182 pages
0.85 lbs
Item #1-2646
Third book in the Olive Series; sequel to Olive and Her Lost Friend.
---
Summer brings exciting days for Olive, especially when the West family comes to visit. Olive and Macy are the same age, and they soon become good friends.
The West family is looking for a church that obeys all the Bible. They like Olive's church. They want to move to Olive's community so that they can go to church there too.
Olive and Macy are happy. They would like to live near each other. But something seems to be wrong with Father and Mr. West—something that makes them very sad. And one day, Father has a sad story to share with Olive and Joy. The West family wants to obey the Bible, but something is standing in the way—something very, very hard.
Together, Olive and Macy and their families learn that even though God's ways may be hard, they will always bring peace.
Contents

1. School Is Over
2. The West Family
3. The West Family Goes Home
4. The Girls Bake
5. Father Explains
6. Olive Has a Birthday
7. Dean Calls Father
8. The Trailer Arrives
9. Moving Day
Customers who bought this product also bought
Customers who viewed this product bought