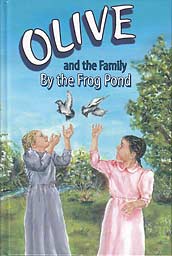 Olive and the Family by the Frog Pond
Hard cover
214 pages
0.93 lbs
Item #1-2642
Fourth book in the Olive Series; sequel to Olive and Macy.
---
Summer vacation has ended, and school days begin for Olive, Joy, and Macy. To celebrate the first day of school, the girls decide to sleep outside one night under a homemade tent of blankets.
Olive and Macy cannot go to sleep right away. So they take a little walk to the tree bench. After talking a while, they pray a special prayer. They ask God to give Olive a brother.
The girls do not know how God will answer their prayer. But one day, the Morrison family gets a phone call. A little boy named Colin needs a good home. Would the Morrisons like to give him a home?
In the days that follow, Joy, Olive, and Colin learn about God's love for them and the interest He has in the details of their lives. They learn that God hears their prayers and answers in the way He knows is best.
Contents

1. School Begins
2. May We Sleep Outside?
3. A Night Outside
4. The Blind Lady
5. Dean Calls
6. Colin
7. Olive and Mice
8. Where's a Puppy?
9. The Haircut Problem
10. The Picnic
Customers who bought this product also bought
Customers who viewed this product bought