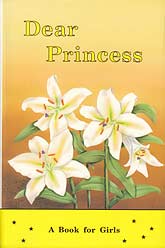 Dear Princess - A Book for Girls (softcover)
Paper cover
259 pages
0.78 lbs
Item #1-2195
Buy more for less:
1-9

items

$10.45

/ each

10

or more items

$9.41

/ each

save

10%
Also available in hard cover, and in Spanish and German.
---
Jesus is calling our dear, young girls to heaven's purity. He wants every one of them to be a princess—a child of the King.
Does your heart sing? Do your lips smile? Are you happy, joyous, and lovable? These are characteristics of the King's daughter, our dear Princess.
Dear Princess addresses every young Christian girl as a princess of her King. Each chapter leads her into an understanding of a part of the Christian life through real-life experiences.
Here she will live through many familiar problems. Her heart will beat with other girls who face the same temptations that have troubled her again and again.
How can I have friends? How shall I dress? How shall I act at church? at home? with my friends? around boys?
What shall I do about my temper? Why do I feel rebellious? How shall I act when I'm not treated fairly? What shall I do when my parents don't understand me?
These any many more questions that puzzle young girls are answered in Dear Princess with understanding and sympathy. Though written to appeal to the interest and comprehension of girls in their early and middle teens, girls of all ages will find this book intensely interesting and helpful.
Dear Princess is a "how to" book that is written to lead Christian girls step by step into victorious Christian living—that happiest, most satisfying and joyous life that the heavenly Father has planned that His children shall have. It will be one of the more worthwhile books in the library of the princess.
The author is a mother of girls and has had the privilege of helping many girls through the stormy problems of the teen years. It is her sincere desire that this book will help others to true peace and victory in Jesus Christ.
Contents

Foreword
To the Princess...
1. A Peep Inside
2. More Glimpses of Self
3. Self Is Broken
4. Inward Beauty
5. "I Love You"
6. Joy Bells
7. The Life of Peace
8. "Longsuffering With Joyfulness"
9. The Gem of Gentleness
10. "Now Be a Good Girl"
11. "Lord, I Believe"
12. An Ornament of Great Price
13. "I Can't Help It"
14. Family Traits
15. "How Can I Please My Father?"
16. "I'm Hungry"
17. "What Is Wrong?"
18. Christ's Bride
19. Living With Yourself
20. The Princess Dreams
21. The Princess and Her Parents
22. "My Sister Is a Princess"
23. "Love at Home"
24. The Loveable Princess
25. The Friends of the Princess
26. Boyfriends
27. The Dress of the Princess
28. Safeguards From Evil Men
29. Gracious Words
30. The Happiest Place
31. Flee These
32. "What Shall I Do?"
33. "Oh, Heaven, I Am Coming!"
Customers who bought this product also bought
Customers who viewed this product bought