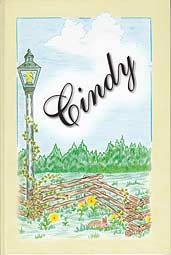 Cindy
Hard cover
352 pages
1.32 lbs
Item #1-2176-3
Also available in this set, and in Spanish.
---
"O Mother," begged Cindy, "may I write to my real daddy?"

"Never, Cindy! You forget that letter and never mention it again! Do you understand that?"

---

Just then there was a loud banging on Cindy's bedroom door. "So this is where your are!" Steve's thick voice reached their ears, striking fear to their hearts....

Terror clutched at Cindy's heart. The door trembled. Would the lock hold?

"Just you wait, Cindy! You'll be sorry for this when I lay my hands on you!"

---

"Why was I ever born into the world, anyway?" Cindy wondered. "How did people come to be here? Where did the world come from? When and how did it have its beginning?" Cindy rolled these thoughts over and over in her mind. It was hard to believe the theory she had learned at school that it all started from a little black dot that grew and grew, developing into many cells that finally became a monkey and then a man. That did not make sense.

---

"It's all right for Grandmother, but in my home I could never be a Christian. There is too much fighting and confusion.... Anyway, how do I know the Bible is really God's Word? Grandmother might be wrong?"

---

No, I know I'm not ready to die," sobbed Cindy into her pillow. "I'll go to hell, but who cares? No one would even care!"
Was there any hope in all the world for happiness for Cindy? Born into a non-Christian home to a mother who divorced her father, then married a divorced man who drank and mistreated the family, Cindy knew nothing of true love and security. Lying, stealing, strife, and mocking of sacred things was a way of life, but Cindy's heart cried out for peace, truth, and happiness.
Follow Cindy from her birth until she is a young adult in this true account of her joyless, stressful life and her despairing search for happiness, in which the faith of a newly discovered step-grandmother offers the only ray of hope.
Contents

1. Little Cindy
2. Cindy's Father Must Leave
3. A Quick Decision
4. A Stepfather
5. Cindy Longs for Love
6. Cindy Goes to School
7. In the Wrong Company
8. Stepfather Is Sick
9. Many Changes
10. A Visit to Grandmother's
11. He Preached Right at Me
12. Cindy Searches for Truth
13. A Fearful Night
14. Another Move
15. Mennonite Neighbors
16. A Visit to Church
17. Battle With Conviction
18. Cindy Finds Happiness
19. Cindy's Family Mocks
20. A Christian Home
21. Trials and Loneliness
22. Living With Grandmother
23. A Faithful Church
24. Decisions to Be Made
25. Cindy's First Date
Customers who bought this product also bought
Customers who viewed this product bought