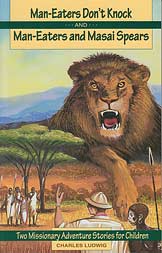 Man-Eaters Don't Knock, and Man-Eaters and Massai Spears (Volume 3) - "Missionary Adventure Stories Series"
Paper cover
135 pages
0.52 lbs
Item #41-4373
Volume 3 of the Missionary Adventure Stories Series.
In Man-Eaters Don't Knock you meet Missionary Green and his two native boys, Ndama and Ochella. They learn about Simba (that's the man-eater) and go to the village to help trap him. Everything they try fails, until one dark night when the man-eater grabs Chemel! Then, things happen and the whole tribe turns to the message of the white man's Savior.
Man-Eaters and Masai Spears—This time Missionary Green and his boys go into the Masai tribe, famous for the spears. Almost before they get there, they are tricked by two husky warriors who bring the three before Mbya, wily, tricky witch doctor. He almost feeds the boys to the vultures, hyenas and Simba, before Ndama becomes hero of the hunt. Mbya's influence disappears and the gospel message prevails.
Content

Man-Eaters Don't Knock—Volume I

1. The Peril
2. Man-Eaters Lunch Quickly
3. Stalking the Man-Eater
4. Man-Eater's Patience
5. Man-Eaters Don't Knock
6. Bitter Medicine
7. The Gun Trap
8. Man-Eater Bait
9. Ndama's Sharpest Arrow

Man-Eaters and Masai Spears—Volume II

1. Man-Eaters and Masai Spears
2. Safari
3. The Strange Request
4. Prisoners of the Masai
5. Poison
6. The Plains of Death
7. Masai Spears
8. The Man-Eater
9. Conclusion
Customers who bought this product also bought
Customers who viewed this product bought