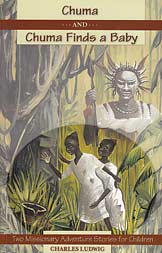 Chuma, and Chuma Finds a Baby (Volume 1) - "Missionary Adventure Stories Series"
Paper cover
152 pages
0.562 lbs
Item #41-4371
Volume 1 of the Missionary Adventure Stories Series.
The introduction of Jesus to an African village in the land of Bunyore wins Chuma, the witch doctor's daughter. With Jesus in her heart, Chuma's hate for Oraka turns to love, and she brings her sister to Jesus.
But the cruel tribal customs of abandoning a twin baby embroils Chuma in a struggle against Baku, the witch doctor, who defends the wicked customs of the village people. Will Chuma's faith in Jesus save the baby's life?
Contents

Chuma—Volume I

Chuma
Chuma Meets a New Girl
Chuma Learns to Make Pots
The Chief's Baby is Sick
Limoni Helps
The Locusts Come
The Pots Are Smashed
Oraka Is Very Sick

Chuma—Volume II

Baby in the Grass
The Square House
Ngutia's Knife
No Place to Go
Leopard Teeth
A New Hut
Hail
Glorious Mistake
Conclusion
Customers who bought this product also bought
Customers who viewed this product bought